Thursday's Christian eBooks
Where There's Smoke
by Susan May Warren
She's a smokejumper afraid of fire… Kate Burns is a legendary smoke jumper, known for her courage and willingness to risk everything to get the job done. Only she has a secret, one she won't admit to anyone.
He can't forget the love they once shared… Supervisor Jed Ransom commands the Jude County Smoke Jumpers with a reputation as a calm, level-headed leader. Kate is the only one who's ever gotten under his skin.
Check out:
(Montana Fire Series)
---
A Love This True
by Leah Atwood
KINDLE BARGAIN
A Brand New Release from a USA Today Bestselling Leah Atwood. Nothing could have prepared him for Trixie Graff. Opposites attract, but will her shame ruin his future or will they both learn the meaning of grace?
Trixie Graff grew up in an ideal family, but with that love came a heavy load of expectations. When she fell short, she ran rather than face her parents' disappointment. Only, distance didn't make her shame disappear. Caught between loneliness and independence, she struggled with the decision to return home. Plagued with guilt after missing her sister's wedding, she finally goes home to Jasper Lake, but her life can't return to what it once had been…
Check out:
(Jasper Lake Series)
---
Peace in the Valley
by Ruth Logan Herne
KINDLE BARGAIN
In spite of their differences, Trey Walker Stafford knows he owes his life to cowboy and legendary rancher Sam Stafford—the uncle who rescued him after his parents' death. Trey had left the Double S Ranch to pursue music against Sam's wishes, but returns to central Washington when he learns he's the best match for a procedure that could save Sam's life. Although Trey's found country music fame and success, he's also endured the tragic loss of his wife. He croons about love, but struggles with a yawning emptiness he can't explain.
Check out:
(Double S Ranch)
---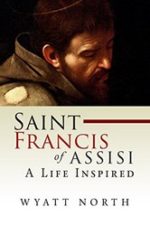 Saint Francis of Assisi
by Wyatt North
While St. Francis of Assisi is one of the most beloved saints in history, the relevancy of St. Francis for our times in light of the election of Pope Francis has yet to be explored. This book is written with the intention of filling that gap. While it is biographical in nature, it also freely explores themes that relate to St. Francis but are not a part of his life. This book is about more than the life of St. Francis of Assisi; it is about the impact this beloved saint has had through his imitation of Christ, his love of poverty, the Franciscan movement, and his profound influence on Pope Francis.
---
To the Farthest Shores
by Elizabeth Camden
KINDLE BARGAIN
It has been six years since army nurse Jenny Bennett's heart was broken by a dashing naval officer. Now Lieutenant Ryan Gallagher has abruptly reappeared in her life at the Presidio army base but refuses to discuss the inexplicable behavior that destroyed their happiness.
Ryan is in an impossible situation. One of the few men in the world qualified to carry out a daring assignment, he accepted a government mission overseas that caused his reputation to be destroyed and broke the heart of the only woman he ever loved.
---
The Bondage Breaker
by Neil T. Anderson
KINDLE BARGAIN
The Bondage Breaker leads readers away from the shadows and shackles in their lives and toward the freedom that comes when they realize they have the right to be free confront the power of Satan fight the temptation to do it their way trade deception for grace affirm their identity in Christ
Featuring a new introduction and cover, Anderson's bestselling book The Bondage Breaker leads you away from the shadows and shackles in your life and toward the freedom that comes…
---
Count It All Joy
by David Jeremiah
KINDLE BARGAIN
The apostle Paul wrote his most personal letter while abused and abandoned in a Roman prison. He wrote to believers who lived in the shadow of the Roman tyrant, Nero. And yet this letter, Philippians, is the most joy-filled epistle in the Bible.
Weaving together modern stories and historical detail, Dr. David Jeremiah explores Philippians verse by verse, showing us what it means to be joyful in spite of circumstances. Whatever you are facing today, Count It All Joy will inspire you to find the joy that Jesus promises.
---
Christian Parenting and Child Care
by Martha Sears, William Sears
KINDLE BARGAIN
This total child care book offers Christian- centered, medically authoritative advice on every aspect of parenting, from choosing an obstetrician to disciplining teenagers. As parents of eight children, William and Martha Sears draw on thirty years of practical and professional experience, resulting in a valuable reference book no family should be without.