Saturday's Christian eBooks
A Prairie Heritage
by Vikki Kestell
LIMITED TIME FREE
One Family, steeped in the love and grace of God, indomitable in their faith, tried and tested in the fires of life, passing forward a legacy to change their world. Immerse yourself in the world of the American prairie of the 1800s and witness this family as they demonstrate the courage and overcoming spirit born of faith in God.
Check out:
(A Prairie Heritage Series)
---
More Than a Celebrity Crush
by Emma Kingsley
KINDLE BARGAIN
When movie star Noah Armstrong shows up at the big cat sanctuary Lauren Ambrose runs with her parents, she can't believe her eyes. What is a gorgeous, successful actor doing in her middle-of-nowhere town? Lauren has seen every movie Noah's ever said so much as a word in, but as she gets to know him, the stars leave her eyes and she finds the kind and selfless man behind the image.
Since his last relationship exploded in his face, Noah's been focusing on work and family. That is, until Lauren Ambrose arrives in his life. She is different from any woman he's ever met and, even though she lives on the opposite side of the country, he is determined to make things work between the two of them.
Check out:
(Loving a Star Series)
---
Circle Series 4-in-1
by Ted Dekker
KINDLE BARGAIN
Rare is the story that takes readers out of this world and into another. Rarer still the story that captures heart, soul, and mind…leaving the reader forever transformed. This is that story. Dive deep and enter the Circle.
The Circle is an epic story of evil and rescue, betrayal and love, and terrorist threat unlike anything the human race has ever known.
---
Epic: The Story God Is Telling
by John Eldredge
KINDLE BARGAIN
In Epic, a retelling of the gospel in four acts, John Eldredge invites us to revisit the drama of life, viewing God not only as the author but also as the lead actor, exploring His motives and His heart. Eldredge examines the power of story, the universal longing for a "plot" that makes sense deep inside us, our desire for a meaningful role to play, our love of books and movies, and how all of this points us to the gospel itself.
---
Girls of Grace
by Point Of Grace
LIMITED TIME FREE
This unique book, designed to help young women grow in their Christian walk, offers practical teaching, personal stories, and biblical insight into the issues that mean the most to teenage girls: faith, family, friends, and boys. Each chapter includes a message from one of the four members of Point Of Grace, a key Scripture, and a special study guide to help teenage girls to learn to find real answers to real-life problems in the Bible. As an added feature, each of the four sections includes fun "outer-beauty tips" and faith-growing "inner-beauty tips."
---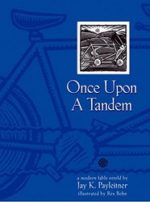 Once Upon a Tandem
by Jay Payleitner, Rex Bohn
LIMITED TIME FREE
In the spirit of The Giving Tree and The Tale of Three Trees, this beautiful allegory shares the story of a traveler on the road of life. The unnamed sojourner pedals alone on a bicycle built for two – until one day a stranger is invited along for the ride, and through the shared experiences of the road, the stranger becomes a lifelong guide and friend. With poetic language, vivid imagery, and artistic illustrations, this simple, yet profound, book shares an invaluable message of hope and direction for every traveler on the road of life.
---
Butterfly Palace
by Colleen Coble
KINDLE BARGAIN
Elegance and wealth. Privilege and politics. The extravagance of the Butterfly Palace overwhelmed Lily's senses and nearly smothered her painful memories. She pushed away her misgivings . . . She was perfectly safe in this huge house.
Austin, Texas—1904: Abandoned by the love of her life and still mourning the loss of her mother, Lily Donaldson has turned her back on the pain and come to Austin for a fresh start, working for the Marshall family as a kitchen maid in their luxurious mansion, the Butterfly Palace.
---
She Makes It Look Easy
by Marybeth Whalen
KINDLE BARGAIN
Ariel Baxter has just moved into the neighborhood of her dreams. The chaos of domestic life and the loneliness of motherhood, however, moved with her. Then she meets her neighbor, Justine Miller. Justine ushers Ariel into a world of clutter-free houses, fresh-baked bread, homemade crafts, neighborhood playdates, and organization techniques designed to make marriage better and parenting manageable.
---
Insecurity Detox
by Trish Blackwell, Todd Durkin
KINDLE BARGAIN
In this book you will find thirty very doable detoxes that will help you get rid of the toxic mindsets and behaviors that pull you away from God's truths and your best self, and replace them with a new way of thinking and acting.
This progressive detoxification journey can be done in thirty days, thirty weeks, or whatever works best for you and your busy schedule.