Sunday's Christian eBooks
Voice in the Wilderness
by H. L. Wegley
LIMITED TIME FREE
What if your blog could save the nation, but posting to it might cost your life? Two extraordinary people born for a time such as this.
As catastrophes drive the US into martial law, all eyes are on America, waiting to see what emerges. KC Banning, network specialist, discovers President Hannan's tyrannical plans and is branded a terrorist, sending her fleeing the Beltway to find her childhood soulmate and protector, Brock Daniels.
When Hannan sends Special Forces to kill Brock and KC, starting a war in the Central Oregon desert, reconciliation, like staying alive, might be impossible.
Check out:
(Against All Enemies)
---
Inlet Circle
by Stephanie Hurt
KINDLE BARGAIN
A Brand New Release from Stephanie Hurt.
In the small town of Wishful Harbor, life is good, that is until things go wrong. When Lacey, the owner of One More Cup, the local coffee shop slides on the ice and right into the side of Chip's truck, the sparks fly. Chip has come to town to take over ownership of the Inlet Cove Inn. Neither of them is ready for anything more than friendship, but when they're stranded at the Inn with no power for twenty-four hours, they think that maybe love could heal old wounds. But, only time will tell in this sweet, small-town romance.
Check out:
(Wishful Harbor Series)
---
Never Have I Ever Kissed
My Brother's Best Friend
by Juliet Bardsley
KINDLE BARGAIN
A Brand New Release from Juliet Bardsley. She's crushed on him for the past six years. He's always seen her as his best friend's little sister. What happens when they're forced together?
Gavin Mitchell is a star soccer player, the best looking senior at Cedar Oaks High, and a potential recruit for the college of his dreams. But if Gavin doesn't raise his English grade, all his plans of playing soccer for his dream school will be crushed. Enter Kenzie Fair, his best friend's smart little sister.
Mackenzie (Kenzie) Fair has the best friend in the world, an enviable collection of books, and the highest grades in the junior class. But there's one thing she doesn't have – Gavin Mitchell – the guy she's crushed on for forever. The guy she acts like a total spaz around. The guy who also happens to be her brother's best friend.
---
Swan Creek Series Starters Collection
by Tattie Maggard
KINDLE BARGAIN
"Like no other Amish boxed set on the market today." Take a walk through the world of Swan Creek with best-selling Swiss Amish romance author, Tattie Maggard.
You'll visit an Amish dry goods store, attend singings, weddings, work frolics, and even join in with Christmas festivities with your new Swiss Amish friends. After reading each book you'll feel like you're having a cup of coffee with the author as she discusses her writing and research.
Learn facts about the Amish way of life. Do the Amish use mirrors? What's the difference between the Swiss Amish and the Pennsylvania Dutch Amish? Where did the Amish come from? Do the Amish pay taxes? Why are all the Amish sects so different? Why do the Amish practice shunning? Why do Amish women wear a kapp? Answers to these questions and more in this delightful and informative Amish romance collection.
---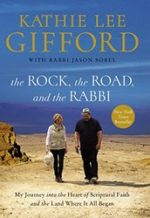 The Rock, the Road, and the Rabbi
by Kathie Lee Gifford, Rabbi Jason Sobel
KINDLE BARGAIN
As a lifelong student of Scripture, Kathie Lee Gifford has always desired a deeper understanding of God's Word and a deeper knowledge of God Himself. But it wasn't until she began studying the biblical texts in their original Hebrew and Greek – along with actually hiking the ancient paths of Israel – that she found the fulfillment of those desires. Now you can walk with Kathie on a journey through the spiritual foundations of her faith…
---
Remember Who You Are…
by Ken Winton
LIMITED TIME FREE
You have been embraced with an outrageous authenticity of an exchanged life, His for yours.
Most believers have never been taught that God is always in a good mood and totally in love with them. As a result, families and churches create shaming cultures that place Christians in spiritual bondage. Remember Who You Are presents the truth that only the powerful love of God and a revelation of who you are to Him can break this too-common oppression.
---
NKJV Study Bible, Full-Color
by Thomas Nelson
KINDLE BARGAIN
With more than 2 million copies sold, it's no secret that the NKJV Study Bible is a reliable guide for your journey into God's Word. This beautiful full-color Bible provides a complete resource for study, including thousands of notes, articles, extensive cross-references, and features contributed by top evangelical scholars. These multilayered study tools, combined with the accuracy and clarity of the New King James Version, make this Bible a perfect choice to help you understand and deeply engage with Scripture.
---
God's Crime Scene for Kids
by Multiple Authors
KINDLE BARGAIN
In this companion to Cold-Case Christianity for Kids, Jason uncovers a mystery in his grandmother's attic. He and his friends, Hannah, Daniel and Jasmine, enlist the help of Detective Jeffries at the Jr. Detective's Academy. Along the way, they develop the skills needed to investigate the mystery and the evidence of God's existence. The cadets learn logical-thinking skills as they examine the contents of a mysterious box and the vast universe.
In God's Crime Scene for Kids, real-life detective J. Warner Wallace shows kids ages 8 to 12 what skills are needed to solve Jason's mystery, and at the same time looks at evidence in the universe that demonstrates God is the creator.
---
How Probate Works
by Anthony S. Park
KINDLE BARGAIN
A Guide for Executors, Heirs, and Families.
"Whether you are creating your estate plan, have recently lost a loved one and will begin the probate process, or are in the middle of probate – this book is for you! It provides guidance on the complex subject of probate in layman's terms and provides real-world examples. It's an easy read, leaving you equipped with knowledge and important information. Great guide!" by Amazon Customer
"I didn't realize all of the taxes and fees you have to pay unless you do the proper estate planning. This is a must read before you consult an estate planning attorney." by Amazon Customer