Thursday's Christian eBooks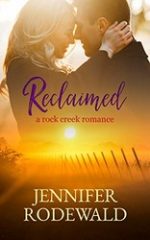 Reclaimed
by Jennifer Rodewald
LIMITED TIME FREE #ad
Land of her own and the love of a good man, and yet she can't let go of the past. What will it take for her to finally find peace?
Suzanna Wilton has had a heavy share of heartache in her twenty-seven years. Left wounded by a marriage cut short, she leaves city life to take up residency in a tiny Nebraska town. Her introduction to her neighbor Paul Rustin is a disaster. Assuming he's as underhanded as the other local cowboys she's already met, Suzanna greets him with sharp hostility…
Just as Paul's kindness begins to melt Suzanna's frozen heart, a conflict regarding her land escalates in town. Even in the warmth of Paul's love, resentment keeps a cold grip on her fragile heart…
Check out:
(Rock Creek Romance Series)
---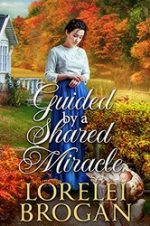 Guided by a Shared Miracle
by Lorelei Brogan
KINDLE BARGAIN #ad
Brand New Release from Lorelei Brogan.
Summer Mclean is a busy, independent woman and this suits her just fine. Between looking after her grandmother, their farm, and working at the diner in town, she has no time to spare for thoughts of marriage. Then, one night, Summer finds a baby on her doorstep. Bewildered and overwhelmed, she's suddenly faced with choices she never expected. When the handsome town doctor starts visiting her farm to help out though, she's torn…
Will she open her heart, or shut him out the way she has most people her entire life?
Terrence Swanson moved to Texas knowing that all he wants is to help people as a doctor. He's noticed Summer for quite some time now, but respects that she isn't looking for romance…
---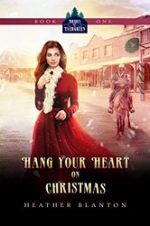 Hang Your Heart on Christmas
by Heather Blanton
KINDLE BARGAIN #ad
A marshal tormented by a thirst for vengeance. A school teacher desperate to trade fear for courage. They have nothing in common except a quiet, little town built on lies and betrayal.
Robert "Dent" Hernandez is a U.S. Marshal bent on bringin' 'em in, preferably upright in the saddle, but draped across it works, too. Less interested in justice than revenge, he uses the badge as a license to hunt for his father's killers. When an arrest goes wrong and he's temporarily remanded to quaint Evergreen, Wyoming to act as interim sheriff, he writhes over the delay to his plans. That is, until he meets the very pretty, but suspiciously jittery schoolteacher. What is she so afraid of?
BONUS MATERIAL— Includes a special vintage Christmas recipe and the true story behind the fictional Dent Hernandez!
Check out:
(The Brides of Evergreen Series)
---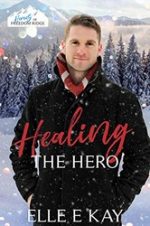 Healing the Hero
by Elle E. Kay
KINDLE BARGAIN #ad
A dream job. A dreamier boss.
Ashley Castle jumps at a chance to show off her skills as head chef when she lands the job at Liberty Grille in the Freedom Ridge Resort. Before long, she develops a full-blown crush on her boss but ignores her growing feelings. Nothing can happen as long as his nightmare ex-girlfriend remains in the picture, so she keeps her focus on work.
Restaurant Manager, Daniel Winchester hires Ashley and can't help but be drawn to the new hire. If it weren't for her faith in a God he stopped trusting while serving in Iraq, he could fall for her. He can't let that happen, though…
Check out:
(The Heroes of Freedom Ridge Series)
---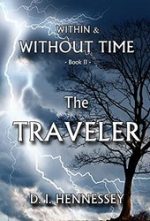 The Traveler
by D. I. Hennessey
KINDLE BARGAIN #ad
The Light Grows in Darkness… The story of Jimmy's supernatural adventure intensifies as he is drawn more deeply into God's amazing plans for the world at the end of the age.
A firestorm of revival has been ignited by an unprecedented move of God's Spirit that is sweeping the world. However, not everyone is happy about it, and powerful enemies are at work trying to stop what God is doing. Jimmy finds himself at the center of this epic conflict, suffering a tragic loss and receiving help from an unexpected source.
God proves the literal truth of an old promise: "Angels shall be his guardians and lightning his deliverer."
Check out:
(Within and Without Time)
---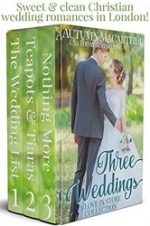 Three Weddings Collection
by Autumn Macarthur
KINDLE BARGAIN #ad
Three sweet and clean faith-filled romances from the Love in Store series, each featuring a British wedding – or two! – involving Tetherton-Hart family members. If you love heartwarming, emotional stories, happy-ever-afters, and weddings, give this set a try!
Love in Store Book 1: The Wedding List
Love in Store Book 7: Teapots & Tiaras
Love in Store Book 8: Nothing More
"These books are a collection of wedding stories. I enjoyed each of these books and how the couples managed to find love and move forward. A great collection of Christian romance stories." by Amazon Customer
Check out:
(What Happens in London Collection)
---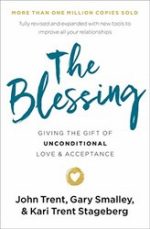 The Blessing
by Multiple Authors
KINDLE BARGAIN #ad
KINDLE NOOK AUDIBLE KOBO APPLE
Children of every age long for the gift of The Blessing – the unconditional love and approval that comes from a healthy relationship with their parents.
This life-changing gift for Christian parents and their children, essential for instilling a deep sense of self-worth and unshakable emotional well-being, contains five essential elements: meaningful touch; a spoken message; attaching high value; picturing a special future; an active commitment
---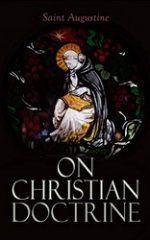 On Christian Doctrine
by Saint Augustine, Marcus Dods
LIMITED TIME FREE #ad
Theological Treatise on the Teachings of Scriptures
On Christian Doctrine is a theological text written by Augustine of Hippo. It consists of four books that describe how to interpret and teach the Scriptures. By writing this text, Augustine set three tasks for Christian teachers and preachers: to discover the truth in the contents of the Scriptures, to teach the truth from the Scriptures, and to defend scriptural truth when it was attacked.
---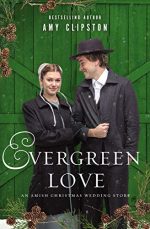 Evergreen Love
by Amy Clipston
KINDLE BARGAIN #ad
Ryan Lapp had promised to marry Lorene Bontrager as soon as he was able to build them a house, but the day never came. Ryan moved away. Five years later, Lorene has settled into her single life and is shocked when her younger sister announces her quick engagement to Ryan's younger brother. As they rush to plan the wedding, Lorene is constantly around the family she almost joined. Worse, she's forced to face Ryan himself, who has returned to town. As both Ryan and Lorene examine their own feelings, they must decide if they can find grace with each other–and the young people they once were–this Christmas season.
---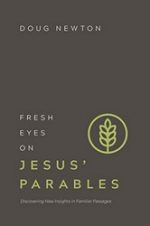 Fresh Eyes on Jesus' Parables
by Doug Newton
KINDLE BARGAIN #ad
How does the parable of the good Samaritan redefine acts of social justice, not just acts of mercy? What does the story of the five talents teach us about daily spiritual life?
Fresh Eyes on Jesus' Parables offers a new perspective on the stories Jesus told to His closest disciples. As in every book in this unique series, Pastor Doug Newton provides life-changing techniques for reading Scripture, such as skills in interpreting one passage using another. Readers will love discovering familiar parables again as if for the first time.
---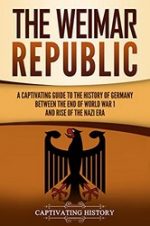 The Weimar Republic
by Captivating History
KINDLE BARGAIN #ad
Have you ever wondered how a man like Adolf Hitler could have come into power? How he legally became a dictator by using a democratic process? Or what were the events that led up to his reign of terror?
The answers lie in the Weimar Republic. Amid the devastation of World War I, Germany's monarchy provided no answers. A democratic government seemed the only way to appease Allied nations and solve the many disasters that were already at the country's doorstep…