Sunday's Christian eBooks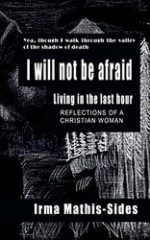 I Will Not Be Afraid: Living in the last Hour
by Irma Mathis-Sides
LIMITED TIME FREE #ad
Brand New Release from Irma Mathis-Sides.
This year has been a year of unusual times. What we experienced seemed to me like I had seen it on a Twilight Zone episode. I mean America is the most powerful nation, prosperous, technologically advanced, with top-notch medical advances, top-notch sanitation practices, a pandemic is so medieval. Social distancing, masks, shortages of basic need items, like toilet paper, lockdowns, shutdowns, and so much defiance, rebellion, and panic across the country, geez! And that was just the pandemic. Well, it was these actions that reminded me of The Twilight Zone. Specifically, the behavior of evangelicals is what I found troubling. It looked like they were itching for persecution to precipitate end times prophesies.
The Scriptures are both vague and clear. Any man's interpretation is at best speculative…
From down in south Texas, this book is one woman's reflections on the events of the few months.
---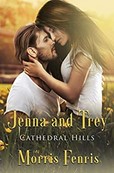 Jenna and Trey
by Morris Fenris
LIMITED TIME FREE #ad
Jenna Baxter has seen more tragedy in her twenty-three years than a lot of people see in their lifetime. She spent six years trying to get over being abandoned by everyone she knew and cared for. Now, her father has passed away, and she is required to return to her hometown to take care of his final estate. When Trey Cottrell sees Jenna standing in his office, he's instantly attracted to her, yet he can't escape the guilt he feels when he finds out how horrible the last few years have been for her.
As Jenna navigates the emotional rollercoaster of discovering she hasn't been forgotten, will she be able to let go of the past and trust God to help her find her path forward?
Check out:
(Cathedral Hills Series)
---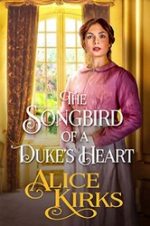 The Songbird of a Duke's Heart
by Alice Kirks
KINDLE BARGAIN #ad
Brand New Release from Alice Kirks.
Emma Dalcour has had more tragedy in her young life than one should be able to bear. After becoming an orphan, she is sent to live with her aunt who works as a governess for the Duke of St. Albans. There, she is careful to remain completely out of sight until she is old enough to be given the position of a maid. However, she soon attracts everyone's attention with her beautiful voice, including young Henry, the eldest son of the duke…
What could happen when years after, Henry returns from university and his charm draws Emma out? Will Emma dare to believe in an unthinkable love?
---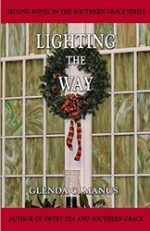 Lighting The Way
by Glenda Manus
KINDLE BARGAIN #ad
It's the Christmas season in Park Place, South Carolina. Storefront displays, twinkling Christmas trees, and busy shoppers liven up Main Street as the town prepares for the traditional seasonal events to pump up the holiday spirit, but not everyone in town is celebrating.
Maria drifts into Park Place to escape an abusive husband. Broken in body and spirit, her only goal is to survive and protect the baby she's carrying, but as she's slowly introduced to the good people of this small Southern town, she comes to believe that kindness and compassion can lead her out of the darkness and into the light of this holy season.
Check out:
(Southern Grace Series)
---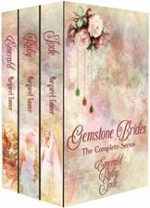 Gemstone Brides Complete Collection
by Margaret Tanner
KINDLE BARGAIN #ad
A father's drunken boast puts the lives of his three daughters at risk.
Gemstone Bride Emerald: Will Emerald and Levi be able to overcome the danger in their lives and find happiness together, or will past injustices stand in their way?
Gemstone Bride Ruby: Could this forced marriage possibly turn into something permanent? Or will they go their separate ways once they reach Colorado?
Gemstone Bride Jade: Will secrets from Jade's past ruin any chance of happiness for them? Or will love conquer all?
---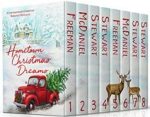 Hometown Christmas Dreams Collection
by Multiple Authors
KINDLE BARGAIN #ad
Deck the Halls; My True Love Gave to Me;
The Wonder of Christmas; Mountain Laurel;
Cephalopod Cupid; To Hear the Angels Sing;
The Heart of Christmas; Prairie Rose
"Such a fabulous collection of beautiful romances! These are the kind of stories that need a full pot of tea, a cozy blanket, and several evenings to enjoy every delightful book in the collection." by Amazon Customer
---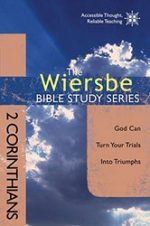 2 Corinthians
by Warren W. Wiersbe
KINDLE BARGAIN #ad
The young church in Corinth was making a disheartening discovery: Believers are not immune from trials and pain. Drawing from his own personal struggles, the apostle Paul sent the congregation a remarkable message of encouragement and comfort. Based on his second letter to the Corinthians, this study explores the reality of suffering, the promise of the new covenant, and the hope available to every believer.  The Wiersbe Bible Studies Series explores timeless wisdom found in God's word. Based on Dr. Warren W. Wiersbe's popular "BE" series, each study provides topical, relevant insights from selected books of the Bible.
---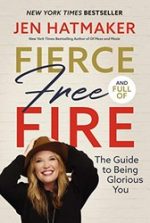 Fierce, Free, and Full of Fire
by Jen Hatmaker
KINDLE BARGAIN #ad
No more hiding or people-pleasing up in here, sisters. No more being sidelined in your own life. It is time for us to be brave, to claim our gifts and quirks and emotions. You are set free and set up and set on fire.
NOW you can get busy doing what you were placed on this planet to do. NOW you can be honest, honest, honest about all of it, even the hard stuff, even the humiliating stuff, even the secret stuff. NOW you can walk in your convictions of faith and ask new questions unafraid. NOW you can be so free, because you are not searching for value from any source other than your own beautiful soul made piece by piece by God who adores you and is ready to get on with the business of unleashing you into this world.
---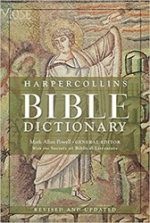 HarperCollins Bible Dictionary
by Mark Allan Powell
KINDLE BARGAIN #ad
Whether you are a pastor, layperson, or a student of scripture, you will find every important name, place, and subject that makes Bible study come to life. From Aaron to Zurishaddai, here are all the people, events, and ideas of biblical times.
This third edition continues in the rich tradition of its predecessors but has been thoroughly updated and revised by a new editorial team under the direction of the premier international scholarly body, the Society of Biblical Literature (SBL). More than half the articles in this book are new, and several dozen charts and tables have also been added as well as updates on recent archaeological discoveries.