Love's Prayer
by Melissa Storm, Sweet Promise Press
LIMITED TIME FREE
Has God heard his desperate prayer? Could she be the answer?
Ben Davis has lived in the shadow of his family's mistakes for years. Forced to give up all his dreams, he wonders if death by his own hand might be the only way out. A desperate plea sent to the God he isn't even sure he believes in is soon answered by a series of miracles that bring Summer and Ben crashing into each other…
Check out:
(First Street Church Series)
---
Heart Rings
by Robin Lee Hatcher
KINDLE BARGAIN
All God needs is a willing heart. On the night Leah Carpenter receives an award for her work on behalf of the less fortunate, her daughter publicly embarrasses her. The heated argument that follows seems about as bad as things can get. It isn't. By the next morning, 16-year-old Shoshanna has run away from home and she has no idea how to find her. When Shoshanna returns two years later, she is a different girl in many ways.
---
A Home for Hannah
by Amy Lillard
KINDLE BARGAIN
In Pontotoc, Mississippi, the Amish way means a chance to rebuild, renew, and rekindle a love from long ago… 
Fifteen years. That's how long it's been since Hannah McLean set foot in the Amish community where she was raised. Through it all her heart has never forgotten Pontotoc—or Aaron Zook, her first love. Now widowed, and left with little more than her hurting teenager and her prayers, she returns home, even knowing she and her son may be turned away.
Check out:
(Amish of Pontotoc Series)
---
Journey on the Hard Side of Miracles
by Dr. Steven Stiles, Steve Gregg
LIMITED TIME FREE
All of us have experienced coincidences, and perhaps we've encountered the truly unexplainable. But have we seen a genuine miracle? What does the Bible tell us about such events? Journey offers a unique look at miracles, and the reader must decide for themselves what is real and what is not.
This true, thought provoking record of the supernatural escorts you back to the international "Jesus Movement" of the 1970's to ponder some of the astonishing ways God rocked the lives of a generation of young Christians.
---
The Bridge Tender
by Marybeth Whalen
BARGAIN BOOK
A surprise gift from her late husband will give a young widow the chance to do the hardest thing in the world . . . move on. On their honeymoon, the new Mr. & Mrs. Ryan Shaw made a pact: No matter the sacrifices along the way, one day they would return to Sunset Beach, North Carolina – this time to buy their own home. But that dream was not to be. Seven years into a beautiful marriage, Emily is left a widow, heartbroken, and way past caring about anything.
Check out:
(A Sunset Beach Series)
---
Hidden Agenda
by Lisa Harris
KINDLE BARGAIN
Michael Hunt is alive–and on the run. Presumed dead by friends and family, the undercover assignment he's been working for the past eight months has just been blown. With a hit out on his life and corruption inside the Atlanta police department, Michael finds himself hunted by both the cartel and the law. His only hope is the daughter of the man who wants him dead.
Check out:
(Southern Crimes Series)
---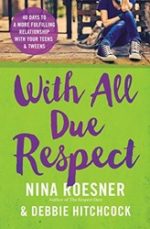 With All Due Respect
by Nina Roesner, Debbie Hitchcock
KINDLE BARGAIN
With All Due Respect is a handbook for parents navigating the difficulties of the tween and teen years. Roesner and Hitchcock help parents identify what successful relationships look like and give easy-to-follow lessons in enforcing rules, communicating lovingly, resetting relationships, overcoming fears and exhaustion, and handling rebellion. Each day features a story every mom can relate to, down-to-earth questions to think about, and a prayer to launch an action plan.
---
A Place Called Blessing
by John Trent, Annette Smith
KINDLE BARGAIN
His whole life has been a story of hurt and rejection. Is one family's love enough to turn it all around?
Josh lost his parents in a drunk-driving accident and lost track of his two brothers after a tragic fire. By age eighteen, he is an angry young man who only wants a job, an apartment, and to be left alone. Instead, he meets Mike and Anna, an unusual son-and-mother team who draw him into their lives. For the first time, Josh receives unconditional love and something every human being craves, the gift of "the blessing."
---
Subversive Jesus
by Zondervan
KINDLE BARGAIN
A broken world demands a response.  Subversive Jesus is the story of one family's experiment in putting the most counter-cultural teachings of Christ into practice. When Jesus says invite the poor for a meal, Craig and his family welcome homeless friends, local crack addicts, and women from the street corner over for dinner. When Jesus proclaims freedom for the captive, they organize Pirates of Justice flash mobs to protest cruise ship exploitation.