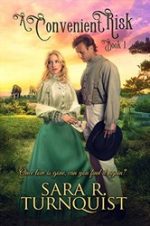 A Convenient Risk
by Sara R. Turnquist
LIMITED TIME FREE #ad
KINDLE NOOK AUDIBLE KOBO APPLE
He never imagined her heart would be so hard to reach.
Forced into a marriage of convenience after her husband dies, Amanda Haynes is determined she will never love again. Not that it bothers Brandon Miller. He needs her husband's cattle. She needs financial stability and long-term support for her son and herself. But she never expected to care so much about the running of the ranch. Butting heads over the decisions of the ranch, adding to her frustration and grief at her loss. Her wellbeing is soon threatened as their lives become entangled with Billy the Kid and his gang.
---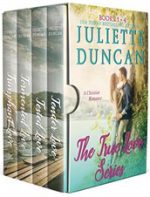 The True Love Series Box Set Books 1-4
by Juliette Duncan
KINDLE BARGAIN #ad
After her long-term relationship falls apart, Tessa Scott is left questioning God's plan for her life, and she's feeling vulnerable and unsure of how to move forward. Ben Williams is struggling to keep the pieces of his life together after his wife of fourteen years walks out on him and their teenage son.
Stephanie, Tessa's housemate, knows the pain both Tessa and Ben have suffered. When she is inadvertently instrumental in setting up a meeting between them, there's no denying that they are drawn to each other, but will that mutual attraction do more harm than good.
"These books show why you need to seek God in everything and what can happen when you do not. It also shows that you should never give up on praying for someone to know Jesus Christ. And that we should always forgive – no matter what the other person may have done to hurt you. This is a fantastic story over a few years but I do feel that there were far more scriptures and long prayers than the books needed." by Amazon Customer
---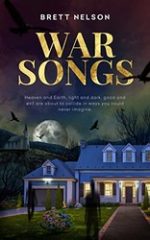 War Songs
by Brett Nelson
KINDLE BARGAIN #ad
There is an invisible realm around us that we can neither discern with our eyes nor hear with our ears. This invisible realm is where the powers of darkness and light reside. They can see and hear us, but we cannot see and hear them.
Jenner Alekson is a leader in his praise and worship band that travels extensively in the tri-state area of Cape Kennington, North Carolina. He makes little money in his chosen profession, yet the rewards he reaps in obedience to his call of ministry are eternal, and that's enough for him.
Always happy with all aspects of his existence, Jenner is blindsided when his life suddenly catapults into turmoil, and he is thrust into a crossroads where discontentment, anger, and loss of desire to carry the gospel with his song takes root in an otherwise sheltered and stable life…
Heaven and Earth, light and dark, good and evil, are about to collide in ways Jenner and Arnold and those they love could never imagine.
---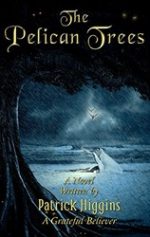 The Pelican Trees
by Patrick Higgins
KINDLE BARGAIN #ad
When was the last time you went on a great and daring adventure? Chock full of mystery, suspense and intrigue, The Pelican Trees allows each reader to do just that, each step carefully orchestrated by a loving grandfather (already in Heaven) trying to rescue his precious granddaughter and the rest of his family from eternal condemnation.
The story it tells will greatly lift your spirits and bless your life immeasurably, making it the perfect next read! NOW AVAILABLE IN AUDIOBOOK!
Shocking… Left out of her grandfather's will for no apparent reason, Shelby McKinney mysteriously receives a post-dated letter a few days later, stating that he hadn't forgotten about her after all. But if she wants her inheritance, she must find it buried six-feet beneath the sand somewhere in the state of Florida.
Exciting… The only available clues—limited as they are—were stored in a bank safe-deposit box somewhere in the Sunshine State. Shelby is given 90 days to locate the bank, decipher all clues and find her buried inheritance. If she doesn't find it within the 90-day time frame, she'll be forced to forfeit it altogether. Riveting…
---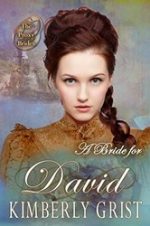 A Bride for David
by Kimberly Grist
KINDLE BARGAIN #ad
Mathematics teacher Daisy Murphy agrees to participate in a new matchmaking service organized by her pastor and the matron of the orphanage where she has spent the last fifteen years.
Romantic, yet practical, she's systematically eliminated all candidates but one and anticipates getting to know him better through months of correspondence. Time is not on the side of David Taylor. He has a nephew and niece to think about, and his attorney has warned him he will lose custody of both to their rich grandfather if he doesn't have a wife. A teacher longing for security, a businessman about to lose the only family he has; and a proxy marriage that can give them both exactly what they need.
---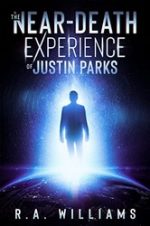 The Near-Death Experience of Justin Parks
by R.A. Williams
KINDLE BARGAIN #ad
2022 Readers' Favorite silver medal winner for best religious themed fiction
This novel, written from a Christian worldview, was inspired byImagine Heaven, The New York Times Best Seller, by Pastor John Burke.
Every year, thousands of people cheat death and come back to life. Many people have near-death experiences that offer a glimpse of Heaven. But none of these can compare to the remarkable near-death experience of Justin Parks.
The past three years haven't been easy for Justin, causing him to lose faith in a loving, personal God. His fiancée gets killed by a drunk driver a week before their wedding. A year later, after enrolling in the police academy in a misguided effort to avenge his fiancée's death, he mistakes a Black church pastor for an armed robber, shoots him in the chest, and nearly kills him. In the following months, he struggles with the backlash from the public outrage caused by negative media attention. And just when his life has seemingly returned to normal, a blow to the head sends him to a watery death, only for him to be revived by paramedics a few minutes later…
---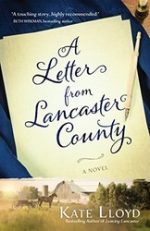 A Letter from Lancaster County
by Kate Lloyd
KINDLE BARGAIN #ad
KINDLE NOOK AUDIBLE KOBO APPLE
Two Sisters Get a Second Chance at Life and Love
Angela Her mother's untimely death, a struggling marriage, a strained relationship with her sister, Rose, and regrets over what might have been haunt her. Despite being a wife and mother, she feels she has little to show for her life.
Rose Still single, she longs for a husband and children. But Angela has all that and still isn't happy. Rose wants to be closer to her older sister, but she and Angela couldn't be more different. Both strong women, will their sibling rivalry ever end?
---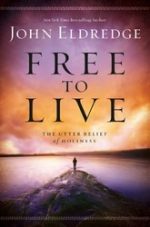 Free to Live
by John Eldredge
KINDLE BARGAIN #ad
What an utter relief it would be to be set free from all that plagues us-the inner struggle with anger, or contempt, the habitual sins. In the depths of your being, you ache to live a life of goodness; we all do. (Something caused you to pick up a book with the word holiness in the subtitle!) We are made for goodness just as we are made to breathe, just as we are made to love. Whatever life has to throw at you, friends, goodness is your strength, your refuge in the storm. And there is a way to be good again.
Here is a book that explores the beauty of the genuine goodness available to us in Jesus Christ and guides us through the process whereby God sets us free by making us whole and holy through his love. You will be relieved. Utterly.
---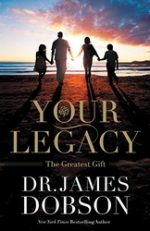 Your Legacy
by James C. Dobson
KINDLE BARGAIN #ad
KINDLE NOOK AUDIBLE KOBO APPLE
We live in a culture that seeks to destroy the embryonic faith of our children and usher them into politically correct ideology, godless systems of belief, and gross immorality that would have shocked previous generations. Today's Christian parents truly live in perilous times.
But the good news is that you can be victorious in this battle for the hearts, minds, and souls of your precious children. Whatever stage you are in as a parent or grandparent, you can leave a spiritual legacy that will equip your children and grandchildren with an unshakable heritage of faith.
---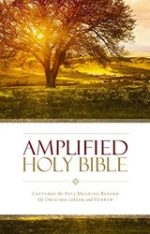 Amplified Holy Bible
by Zondervan
KINDLE BARGAIN #ad
You've trusted the Amplified Bible to deliver enhanced understanding of all the rich nuances and shades of meaning of the original Bible languages. For this kind of in-depth study, no working knowledge of Greek or Hebrew is required—just a desire to know more about what God says in his Word. Amplified Bibles use a unique system of punctuation, italics, references, and synonyms to unlock subtle shades of meaning as found in the original languages.