The Power of Prayer and the Prayer of Power
by R. A. Torrey
LIMITED TIME FREE #ad
KINDLE NOOK AUDIBLE KOBO APPLE
The sacrifice of the wicked is an abomination to the Lord, But the prayer of the upright is His delight. – Proverbs 15:8
Prayer is the key that unlocks all the storehouses of God's infinite grace and power. All that God is, and all that God has, is at the disposal of prayer; but we must use the key. Prayer can do anything that God can do, and since God can do anything, prayer is omnipotent. No one can stand against the person who knows how to pray, who meets all the conditions of prevailing prayer, and who really prays, and if they are willing to pay the price. The price is prayer, much prayer, much real prayer, prayer in the Holy Spirit.
---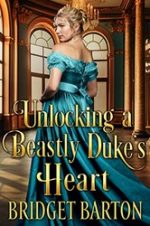 Unlocking a Beastly Duke's Heart
by Bridget Barton
KINDLE BARGAIN #ad
Brand New Release from Bridget Barton
Lady Arabella Hodgkinson has never been one to judge people by appearances. Therefore, meeting the heavily scarred Duke of East Anglia at a masked ball, leaves her totally undeterred, and yet somehow intrigued. Her tender heart flutters like never before when she receives an invitation to the Duke's estate, which she decides to accept, despite the discouraging warnings from her family…
And so, her journey to discover the man behind the mask begins…
Alexander Meadows, the brooding Duke of East Anglia, has been living in a self-imposed exile since a fire killed his parents and disfigured his face. Even though his heart is made of gold, he believes that his presence is not fit for the world outside…
---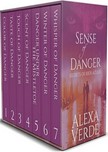 Sense of Danger:
The Complete Secrets of Rios Azules Series
by Alexa Verde
KINDLE BARGAIN #ad
Seven riveting, unputdownable romances filled with love, faith, and danger to warm your heart and set it racing! Sparks and bullets fly as couples join forces to survive, solve mysteries, and find love.
Welcome to Rios Azules, a small south Texas town where rivers and emotions run deep and the secrets are deadly. Will the Danger Girls, a group of childhood friends, all survive?
BONUS PREQUEL NOVELLA: River of Danger
BOOK 1: Color of Danger; BOOK 2: Taste of Danger
BOOK 3: Touch of Danger; BOOK 4: Scent of Danger
BOOK 5: Danger Under the Mistletoe; BOOK 6: Winter of Danger
BOOK 7: Whisper of Danger
---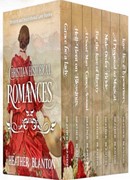 Happy Endings Collection
by Heather Blanton
KINDLE BARGAIN #ad
Falling in love can take you places you never thought you'd go! Nearly 1,000 pages, this is a wide-ranging collection of romances uniting sassy, strong-willed heroines with their noble but flawed heroes.
From hidden identities to high school sweethearts to mail-order brides to soul mates, their stories will whisk you away to different times and places.
Ride with the best cowboys in Wyoming–while keeping a stunning secret.; Get a second chance at love in a California Gold Rush town.; Travel back in time to Philadelphia of 1778 to save a love that might also save the country; Revisit the innocence of the changing West during World War II; And more!
Cowboys, war veterans, sheriffs, and even spies, are here to make sure love conquers all!
---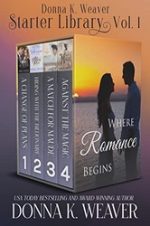 Donna K. Weaver Starter Library Vol. 1
by Donna K. Weaver
KINDLE BARGAIN #ad
A collection of first-in-series books.
A Change of Plans (Safe Harbors Series) – It was a relaxing vacation—until the pirates. And the shipwreck. And the falling in love.
Hiding from the Billionare (Billionaires of REKD Series) – Ahri Meisner's on the run. Her hiding place may keep her safe from her husband's murderers, but what about her heart?
Against the Magic (Twickenham Full-Moon Ball Time Travel Series) – Jem broke her heart, and Reese never wanted to see him again. Now, they're stranded together back in 1850.
A Match for Maude (Lilac City Romance Novella Series) – Charles is only supposed to guard Maude and her sisters to their destination. He should have guarded his heart.
---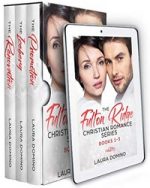 The Fulton Ridge Christian Romance Series: Books 1-3
by Laura Domino
KINDLE BARGAIN #ad
Can true love mend broken hearts? Read these three full-length novels in the Fulton Ridge Christian romance series and see what draws these couples closer together.
Book 1: The Promotion – WHAT'S MORE IMPORTANT? MONEY OR LOVE?
Book 2: The Iceberg – MEETING HER WAS JUST THE TIP OF THE ICEBERG.
Book 3: The Renovation – FINDING LOVE THAT'S BUILT TO LAST.
"This boxset follows three different Christian love stories and at times even quotes scripture. I adore the author's ability to incorporate sacred text into the storyline. Would recommend for someone of the Christian faith who wants some easy, clean, and wholesome romance stories to read." by Amazon Customer
---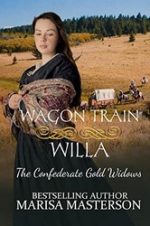 Wagon Train Willa
by Marisa Masterson
KINDLE BARGAIN #ad
Brand New Release for $0.99!
"I'm only the nanny!" Willa Winston shouted the words to the wind. No one heard her. After all, the wagon train was behind her where she should be. It was where she would be if the little devils hadn't disappeared in this direction. Tall prairie grass tugged at her skirt. The only good thing about it was the trail going through the overlong stuff. She easily followed the rascals.
Willa was only the nanny. How did she end up on the Oregon Trail with her young charges?
Cade Chester enjoys his life as a scout for a wagon train. Little does he suspect that any woman could change his desire for adventure. Willa Winston is more than merely a woman needing help. She is the one person he cannot let walk out of his life.
When Willa is forced to pick a husband on the trail, she asks Cade to marry her. Only, she wants to be able to walk away at the end of the journey. That is, until danger comes after her.
Check out:
(Mail-Order Marietta)
---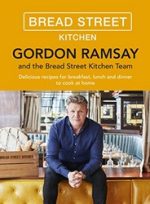 Gordon Ramsay Bread Street Kitchen
by Gordon Ramsay
KINDLE BARGAIN #ad
From breakfast to dinner and everything in between, this is a collection of 100 fresh new recipes from Gordon Ramsay and the award-winning team at Bread Street Kitchen. Like the restaurant itself, the book is all about relaxed and sociable eating, using fresh ingredients, simple techniques all delivered with the signature Gordon Ramsay stamp so that you know it's going to be good.
---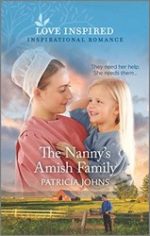 The Nanny's Amish Family
by Patricia Johns
KINDLE BARGAIN #ad
They need her help. She needs them… An Amish bachelor. A motherless child. Can she turn them into a real family?
Schoolteacher Patience Flaud longs for a family of her own – but knows it can never happen. At least she can help Amish bachelor Thomas Wiebe with his small Englisher daughter. As she settles the child into Amish life, Patience begins falling for the bewildered new father and his heartbroken little girl. But is love enough to make them a permanent family?
---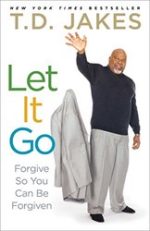 Let It Go: Forgive So You Can Be Forgiven
by T.D. Jakes
KINDLE BARGAIN #ad
KINDLE NOOK AUDIBLE KOBO APPLE
Jakes understands that he and fellow Christians share spiritual truths "that transcend time and culture and reflect a universal understanding of human nature." The spiritual truth he explores in Let It Go concerns forgiveness and why it is important for those on the receiving end of wrongful behavior as well as those who commit acts of wrongdoing.
"Forgiveness is a big idea and it works best when it is invested into people who have the courage to grasp the seven-foot-high idea of what's best for their future rather than the four-foot-high idea of recompense for what has happened in their past," Jakes writes in Let It Go.