An Awakened Heart
by Jody Hedlund
LIMITED TIME FREE
Trying to heal the ache she feels in her empty life, wealthy Christine Pendleton decides to volunteer at Centre Street Chapel. Ministering to one of the most deprived parts of New York City, the chapel aims at making a difference in the lives of the impoverished immigrants flooding the city. After seeing firsthand the hopelessness of the poor women and orphans, Christine is convinced more can be done to help them.
---
Miss Marple's B&B
by Glenda Manus
KINDLE BARGAIN
Park Place, South Carolina is all spruced up for the Christmas holidays. Storefronts are competing for the coveted "Best Window Display" award given out each holiday season. Christmas music is blasting out of the town square's speaker system, and everyone in town has the spirit. Everyone, that is, except for Agatha O'Malley in the large Victorian house at the end of Main Street. The death of her husband, Charlie, two year earlier, has caused a bah, humbug feeling every Christmas since.
Check out:
(Southern Grace Series)
---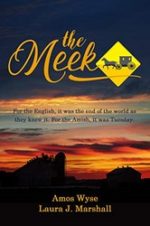 The Meek
by Laura J. Marshall, Amos Wyse
KINDLE BARGAIN
For the English, it was the end of the world as they knew it. For the Amish, it was Tuesday.
Jedediah Wenger lost his family to an Englishe drunk driver. He has yet to put his life back together including the long-forgotten courting of the Bishop's daughter, Felicity Troyer. When he's suddenly faced with the task of helping the fading mid-western town of Prosperity survive, he realizes the task is greater than the town or the District can overcome.
---
Christmas at Carnton
by Tamera Alexander
KINDLE BARGAIN
Recently widowed, Aletta Prescott struggles to hold life together for herself and her six-year old son.With the bank threatening to evict, she discovers an advertisement for the Women's Relief Society auction and applies for a position – only to discover it's been filled. Then a chance meeting with a wounded soldier offers another opportunity – and friendship. But can Aletta trust this man?
---
The Joy of Fearing God
by Jerry Bridges
KINDLE BARGAIN
What Kind of Relationship Can You Have with Someone You Fear? For most of us, fear is something we try to avoid. And fearing God hardly sounds like an occasion for joy. But Jerry Bridges shows how the fear of the Lord is actually the key that opens the door to a life of true knowledge, wisdom, blessing, and joy.
We all want a deeper, more intimate relationship with God–one that's characterized by joy. But how does fearing God lead to joy?
---
Catholic Mom Challenge
by Sterling Jaquith
LIMITED TIME FREE
Catholic moms are called to sainthood, but what does that look like among the piles of laundry, the mounting to-do list, and the stress of getting dinner ready? The Catholic Mom Challenge system blends the power of Catholicism with discrete steps that busy moms can take to manage their lives while still striving for sainthood.
This system works for everyone, because it will teach you to always be refining what works for you.
---
Winter in Sweetwater County
by Ciara Knight, Cora Artz
KINDLE BARGAIN
Lisa Mortan's ideal life crumbles when her rich and powerful fiancé demands she ends an unwanted pregnancy. With no job or social support, she flees to a small town in hopes of finding a good family for her unborn baby, but instead finds a man who is as broken as she is. Eric Gaylord returns to his home town for a respite after a tragic loss, but when his spitfire mother takes on an unknown woman as a business partner…
---
An Amish Second Christmas
by Multiple Authors
KINDLE BARGAIN
Celebrate Second Christmas, a treasured, lighthearted time of community, with four Amish romances.
"When Christmas Comes Again" by Beth Wiseman; "Her Christmas Pen Pal" by Ruth Reid
"A Gift for Anne Marie" by Kathleen Fuller; "The Christmas Aprons" by Tricia Goyer
---
NKJV, Adventure Bible
by Lawrence O. Richards, Jim Madsen
KINDLE BARGAIN
Ready for adventure? Embark on a fun, exciting journey through God's Word with the full-color NKJV Adventure Bible. Along the way you'll meet all types of people, see all sorts of places, and learn all kinds of things about the Bible. Features include: "Life in Bible Times – Articles and illustrations describe what life was like in ancient days; "People in Bible Times" – Offers close-up looks at amazing people of the Bible; "Did You Know?" – Provides interesting facts that help you better understand God's Word; "Let's Live It!" – Includes hands-on activities to help you apply biblical truths to your life