Thursday's Christian eBooks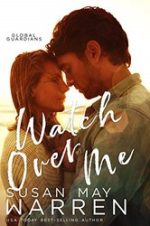 Watch Over Me
by Susan May Warren
LIMITED TIME FREE #ad
Emotionally wounded hero, a woman with a secret, this forced proximity romance will have you on the edge of your seat. *Susie writes a delightful story! -NYT bestselling author Dee Henderson.*
Her best friends are murdered and a serial killer is on her tail, and she's got a secret that could save millions of lives. The last person Gracie Benson is about to trust is a cynical Russian FSB agent.
Pursued by his own demons, Vicktor isn't going to let the killer escape, not again. But his plans for payback are suddenly threatened when he has to choose between justice or saving the woman he loves…
Check out:
(Global Guardians Series)
---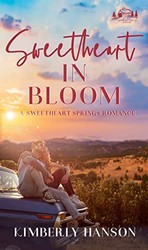 Sweetheart in Bloom
by Kimberly Hanson
KINDLE BARGAIN #ad
Brand New Release from Kimberly Hanson
Is small town folklore enough to help heal a broken heart?
Piper McEwan always dreamed of having her own art gallery. When the opportunity to open one in the quaint small town of Sweetheart Springs comes up, she jumps at the chance. Not only is it picturesque, but it also holds a folklore that has been talked about in her family for decades.
The opening of her art gallery is a dream come true, until a leak crashes her party and has her call the town's typical 'boy-next-door' to her rescue. Spending time with Nick Donovan is both thrilling and confusing…
Check out:
(Sweetheart Springs Series)
---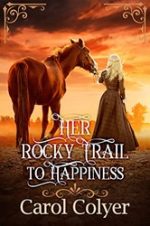 Her Rocky Trail to Happiness
by Carol Colyer
KINDLE BARGAIN #ad
Martha Ramsey's world is shattered after the passing of her last close relative, her loving grandmother. Left to care for her younger sister too, she has no choice but to comply with her uncle's offer of marriage to an older man in the West and embark on this precarious journey to the unknown. Her escort is Ronnie, a charming young man that makes her wonder if true love is among the cards that fate has in store for her…
Will she choose to accept her destiny or will she find the courage to show what lies deeper in her heart?
Ronnie Harman is a dutiful son tasked by his family to pay off the debts of his gambling brother to a notorious gang. Little did he expect to accompany a spoiled city lady, Martha, and her sister on his trip back home as part of his deal.
---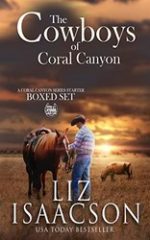 The Cowboys of Coral Canyon Boxed Set
by Liz Isaacson
KINDLE BARGAIN #ad
Escape to the mountains with the cowboys of Coral Canyon – a sweet contemporary western small town filled with sexy cowboys, their big families, and the best love stories!
Each book starts a series in USA Today Bestselling Author Liz Isaacson's iconic storyworld of Coral Canyon! See why millions have read her books, making her Top 10 Kindle Unlimited All-Star Author multiple times, and one of the most read authors in the United States in Kindle Unlimited for over 2.5 years!
Her Cowboy Billionaire Best Friend
Her Cowboy Billionaire Birthday Wish
Tex
Fall in love with a sweet, sexy, strong cowboy, their families, and the women who bring them to their knees!
---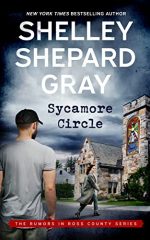 Sycamore Circle
by Shelley Shepard Gray
KINDLE BARGAIN #ad
KINDLE NOOK AUDIBLE KOBO APPLE
There's a lot going on in Joy Howard's life. She's got an ex-husband who starts acting like he doesn't want to be an ex anymore, a sixteen-year-old daughter in need of a guiding hand and a lot of rides to dance practice, more orders for paintings than she has time to paint, and a roster of tutoring clients who sometimes need far more than she can give.
What she doesn't have is time for a new relationship…
---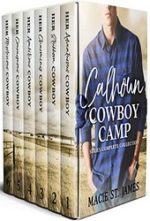 Calhoun Cowboy Camp Series Complete Collection
by Macie St. James
KINDLE BARGAIN #ad
You'll get six full-length novels, each featuring a dreamy cowboy, feel-good clean romance, and a charming small-town setting in this contemporary western box set. You'll also get a bonus prequel novella.
Turning Calhoun Ranch into a cowboy camp for kids wasn't in anyone's plans. But it could be just what the Calhoun family needs to save the ranch. As each sibling finds love, the ranch becomes more than a business. It becomes home.
Her Brainy Cowboy (a prequel novella)
Her Adventurous Cowboy
Her Stubborn Cowboy
Her Charming Cowboy
Her Ambitious Cowboy
Her Courageous Cowboy
Her Mysterious Cowboy
---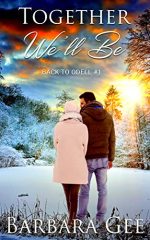 Together We'll Be
by Barbara Gee
KINDLE BARGAIN #ad
When Raelyn Matthews agreed at the last minute to accompany her aunt on an agricultural tour of New Zealand, she hadn't expected to find herself seated next to the most fascinating guy in the world on the very first flight. Nor did she expect to find that the big, handsome rancher was from her aunt's small hometown of Odell, North Dakota and they were all part of the same tour group. Luck or destiny? Either was fine with Rae. Sparks were flying, and she was pretty sure a vacation romance was brewing.
But there was a problem. Blake Layton hadn't expected to meet her either, and his time and attention during the trip were already spoken for. It made for kind of a mess, but when something feels so right, you find a way…
Check out:
(Back to Odell Series)
---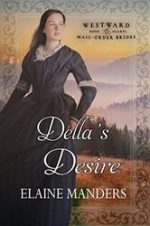 Della's Desire
by Elaine Manders
KINDLE BARGAIN #ad
Della Morrisey, a widow with two small children, needs a husband in the worst way. The bank is trying to put her ranch on the auction block. What man would take on all her problems? In desperation, she applies to the Westward Home and Hearts matrimonial agency to become a mail-order bride.
Eli Callahan intends to go west and claim a spread under the Homesteader's Act, then find a wife. But when his employer catches his young wife with Eli in what looks like a compromising position, plans change. Although the wife has orchestrated the scene, Eli is fired and decides to find a mail-order bride…
---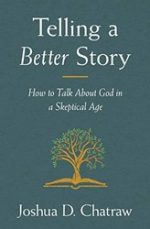 Telling a Better Story
by Joshua D. Chatraw
KINDLE BARGAIN #ad
KINDLE NOOK AUDIBLE KOBO APPLE
Telling a Better Story clears a path to a more effective, empathetic apologetics for today – both for experienced apologists and those new to sharing their faith with others.
Today's Christians often view the practice of defending their faith as pushy or unnecessary. Won't it just be taken for proselytizing? Don't many unbelievers find it offensive? Many Christians have shifted to a strategy of hoping that our lives will show Christ to our neighbors – and, while this is certainly good, it's no substitute to actively telling people about Christ.
---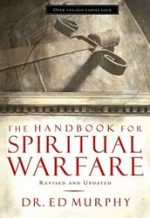 The Handbook for Spiritual Warfare
by Ed Murphy
KINDLE BARGAIN #ad
Your guide to understanding all dimensions of spiritual warfare!
The Handbook for Spiritual Warfare is the most thorough treatment available of biblical and theological foundations and practical concerns for spiritual warfare. Further revised and updated for the 21st century.
THE BOOK: Equips leaders and mature believers; Comprehensive coverage of all 3 dimensions of spiritual conflict: the World, the Flesh, and the Devil; Endorsed by Frank Peretti, Dr. C. Peter Wagner, and others
---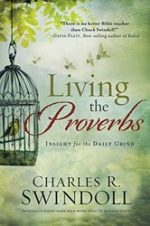 Living the Proverbs
by Charles R. Swindoll
KINDLE BARGAIN #ad
Swindoll offers amazingly fresh insights about how to live with inexplicable joy in spite of the daily grind. Yes, despite that, choose joy!
We all have those days when temptation becomes bad choices, when we don't know who to trust or where to turn. The book of Proverbs offers revolutionary wisdom for such traumatic moments. This book explores such pressing themes as handling difficult people, temptation, financial decisions, betrayal, and even marriage and parenting decisions. A trade paper conversion of the hardcover edition.