Sunday's Christian eBooks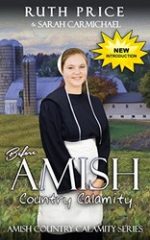 Before An Amish Country Calamity
by Ruth Price, Sarah Carmichael
LIMITED TIME FREE #ad
An Amish tomboy. A costly mistake. Can Annie save her father's business?
If you're looking for a laugh out loud funny book about the adventures of an Amish tomboy, this one's for you.
Return to the world of Lancaster County Second Chances with Annie Miller, a fifteen-year-old wild child with a goat-load of problems! Since losing her mamm when she was only six-years-old, Annie and her daed have managed to hold it together. But 15-year-old Annie Fisher is viewed as a wild child by the rest of her Amish community…
---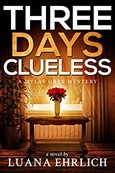 Three Days Clueless
by Luana Ehrlich
KINDLE BARGAIN #ad
Mylas Grey is determined to find the person who shot a politician in broad daylight. There's just one problem. The killer left no clues behind. Zip. Zilch. Nada.
Mylas gets involved in an intriguing case of MURDER . . . When Mylas arrives in his hometown to spend time with Whitney, he agrees to help his father, a local private detective, examine the files of a politician who was murdered in cold blood.
Mylas gets involved in an intriguing case of murder with NO CLUES . . . The wife of the slain politician believes her husband's murder is connected to his duties as a state legislator, but the police find no clues to his murder and no evidence to support her claim…
Check out:
(Mylas Grey Mysteries)
---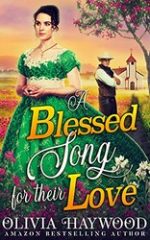 A Blessed Song for Their Love
by Olivia Haywood
KINDLE BARGAIN #ad
Brand New Release from Olivia Haywood.
She has a God-gifted voice, but she is afraid to speak her mind. He is the prodigal son seeking redemption. How can two wounded hearts heal by God's Light?
After losing her parents, Rosaline worked as a maid for a wealthy couple to survive. The circumstances are tough for her since her boss treats her like a pariah. God gave her an angelic voice, and singing is her only way out. Determined to get out of her harsh life, she decides to become a mail-order bride and take life in her own hands.
How can she cope with a man who lost his faith and accept her feelings for him?
Thomas is the prodigal son of the family. He has lost his wife, and now it's difficult for him to raise his son on his own. His faith has gone away, God, and he believes that has abandoned him…
---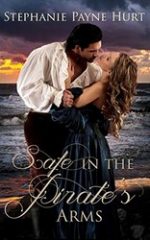 Safe in the Pirate's Arms
by Stephanie Hurt
KINDLE BARGAIN #ad
Their lives were changed forever the moment she stowed away on his ship.
Serena's breath caught in her throat as the white sails came into view. She watched The Lady sail into port grandly. Although it was a known Pirate ship she couldn't help but admire it. Captain Caleb Tanner wanted to see Serena again. He'd only caught site of her quickly on the docks. Who was she? She'd been like a breath of fresh air.
Their fates were entwined. Although he was deemed a pirate by most, those that knew him were aware of the truth. He would protect her… With his life.
Check out:
(The First Mate's Lady)
---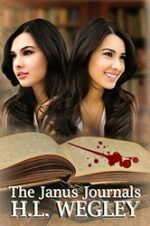 The Janus Journals
by H. L. Wegley
KINDLE BARGAIN #ad
Will probing the past, through her father's secret journals, save her future? For recent college graduate, Alisa (Allie) Petrenko, the Cold War never ended, and events set in motion years ago have endangered this innocent young woman. When her father is murdered, he left her with a warning, an assassin on her trail, and his secret history contained in a set of journals. As Allie tries to elude the assassin and read the journals, she learns that the loving father who raised her was not the man he appeared to be, and the man she must now trust with her life is someone Allie must never trust with her heart. At strong safety, Grady Jamison could defend against opponents in the red zone, but he couldn't stop the drunk driver who hit his car and killed his sister.
Does Allie Petrenko's call for help mean Grady has been given a second chance, a chance to do things right?
---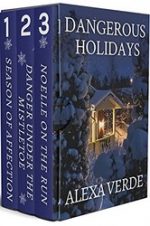 Dangerous Holiday
by Alexa Verde
KINDLE BARGAIN #ad
Three fast-paced Christmas romantic suspense novellas with a dash of mystery!
SEASON OF AFFECTION
DANGER UNDER THE MISTLETOE
NOELLE ON THE RUN
"A collection of Christmas stories that include damger, intrigue and romance. I really enjoyed all the stories and the characters in each book." by Amazon Customer
---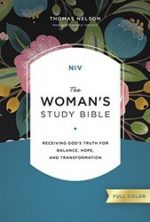 NIV, The Woman's Study Bible, Full-Color
by Multiple Authors
KINDLE BARGAIN #ad
The Woman's Study Bible poignantly reveals the Word of God to women, inviting them to receive God's truth for balance, hope, and transformation. Special features designed to speak to a woman's heart appear throughout the Bible text, revealing Scripture-based insights about how godly womanhood grows from a woman's identity as a Christ-follower and a child of the Kingdom. Now with a beautiful full-color redesign, The Woman's Study Bible reflects the contributions of over 80 women from a wide variety of ethnic, denominational, educational, and occupational backgrounds…
---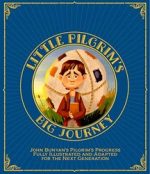 Little Pilgrim's Big Journey
by Tyler Van Halteren
LIMITED TIME FREE #ad
A beautifully illustrated version of the Pilgrim's Progress designed for children ages 4 to 10, with beautiful artwork on every page and engaging text. Follow Christian on his unforgettable journey and help equip your kids to lead a life of faith as they follow the King's path to the Celestial City.
---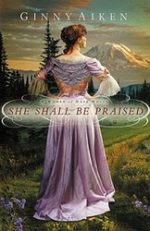 She Shall Be Praised
by Ginny Aiken
KINDLE BARGAIN #ad
When socialite Emma Crowell stops the carriage on the way to Portland to 'exercise' her new puppy, the last thing she expects is to be left behind in decidedly unsuitable attire, let alone kidnapped. Fortunately, she is soon found by local rancher Peter Lowery. Unfortunately, he has no intention of abandoning his livelihood to take her back to civilization until the fall. He will, however, provide food, shelter and safety, and in return he expects Emma to earn her keep.
---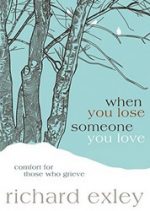 When You Lose Someone You Love
by Richard Exley
KINDLE BARGAIN #ad
Grief is mysterious, misunderstood, and experienced differently from individual to individual, yet there are certain universal elements. In this compassionate epistolary handbook on grief, a pastor offers comfort and understanding to a man suffering a profound loss, showing grief as a healthy process that God can use to mend broken hearts.
Revised and updated, this twentieth-anniversary edition features prayers and scripture meditation, as well as a new introduction and epilogue. Simple, profound, personal, compassionate … When You Lose Someone You Love tenderly walks the grief-stricken through sorrow to peace and, eventually, renewed joy.
---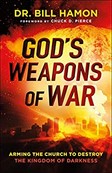 God's Weapons of War
by Dr. Bill Hamon
KINDLE BARGAIN #ad
KINDLE NOOK AUDIBLE KOBO APPLE
For years, we have learned principles of individual spiritual warfare. Yet as the end times are upon us, the forces of darkness are intensifying their attacks around the world. For this next season, says renowned prophetic leader Dr. Bill Hamon, we as the church must up the ante and learn to fight on a higher level than we ever have, in corporate spiritual warfare. With wisdom, urgency, and keen prophetic insight, Hamon lays the biblical foundation for this final level of warfare and shows how we, as the church, can prepare to work in unity to become the army of the Lord…