Sunday's Christian eBooks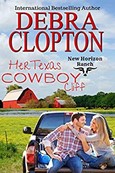 Her Texas Cowboy: Cliff
by Debra Clopton
LIMITED TIME FREE #ad
KINDLE NOOK AUDIBLE KOBO APPLE
She needed someone to love her and never let her go…but she's afraid.
Professional bull rider Cliff Masterson has been chasing his dreams for years but after rescuing a beautiful cowgirl from being trampled by a bull now he's suddenly dreaming of love, home and hearth. Because Maddie Rose has had enough people in her life leave and she's not willing to risk her heart on anyone, especially a bull rider with wanderlust in his veins.
Sparks fly as this determined cowboy tries to prove to this feisty cowgirl that the only thing he's chasing now is wedding bells with her…
Check out:
(New Horizon Ranch Series)
---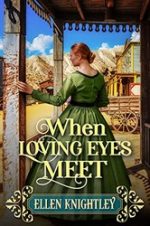 When Loving Eyes Meet
by Ellen Knightley
KINDLE BARGAIN #ad
Brand New Release from Ellen Knightley.
At the young age of twenty years, Annette Prader has already tasted tragedy. After the loss of her older brothers, she stepped in to help with both the family's saddle shop and the household with patience and grace. Ever the dutiful daughter, Annette agrees to an arranged marriage and puts aside her dream of a fairytale romance. Her world is turned upside down, though, when a charming but mysterious man enters her life, and soon she finds herself deeply in love. Annette's destiny is about to change for good but will this mean risking her loyalty to her family?
Unbeknownst to her, this charming man comes with a secret that may break her heart and perhaps cost her very life…
---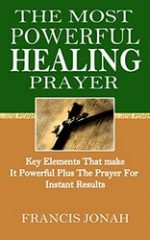 The Most Powerful Healing Prayer:
Key Elements That Make it
Powerful Plus Prayer with INSTANT results
by Francis Jonah
KINDLE BARGAIN #ad
There are prayers that bring instant HEALING results…..This book contains one of them.
Within the pages of this book, you will learn the keys that combine to make any prayer powerful so as to bring results other prayers do not bring. These key elements have proven to work time and again in different scenarios and would work in your condition also.
Your frustrations in prayer and not understanding what happens after you pray will be explained so that you can walk with understanding in your prayer life. Wisdom is the principal thing and this book gives an abundance of it together with such superior understanding that your prayer for healing will take new dimensions.
---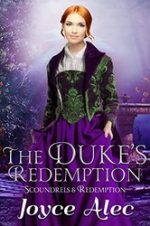 The Duke's Redemption
by Joyce Alec
KINDLE BARGAIN #ad
Brand New Release from Joyce Alec
Can a rogue really change his ways?
The Duke has a dark past. Miss Kelling does not believe that he has changed. She finds him irritating, and she does not want to give him a minute of her time.
The Duke wants to redeem himself, but his efforts are futile. However, when the Duke needs Miss Kelling's help, can she really turn him away in his time of need?
Check out:
(Scoundrels and Redemption Series)
---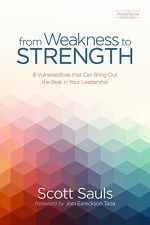 From Weakness to Strength
by Multiple Authors
LIMITED TIME FREE #ad
KINDLE NOOK AUDIBLE KOBO APPLE
For Christian leaders—both inside and outside of the church—weaknesses that are left unchecked can lead to a downfall that is both public and painful. They want to lead with character and live like Jesus, but ambition, isolation, criticism, envy, anticlimax, opposition, restlessness, and insecurity can get in the way. 
From Weakness to Strength provides leaders with tools to draw near to Jesus and stay encouraged and hopeful, even (and especially) when sin and struggle get in the way.
---
Love Found in Sherwood Forest
by Linda Shenton-Matchett
KINDLE BARGAIN #ad
KINDLE NOOK AUDIBLE KOBO APPLE
Can a girl really ever go home again?
Award-winning Broadway actress Leighanne Webster has it all until an on-stage panic attack brings her career crashing to the ground. Returning to England to help produce the annual Robin Hood Festival play, could be the diversion Leighanne needs. But with ex-fiance, Jamison Blake, as the play's director, focusing on her new job won't be easy.
Breaking his engagement with Leighanne so she could pursue her dream of being a Broadway star was the hardest thing Jamison Blake ever did. When she returns to Nottingham, his heart insists he made a mistake. Can he convince her to give their love a second chance, or will he have to let her go again?
---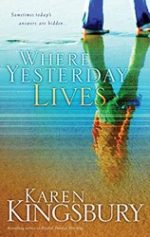 Where Yesterday Lives
by Karen Kingsbury
KINDLE BARGAIN #ad
KINDLE NOOK AUDIBLE KOBO APPLE
At thirty-one, Ellen Barrett has already won a Pulitzer prize. Sadly, though, her skill as a journalist far surpasses her ability to sort out her troubled past, so she's less than eager to return to picturesque Petoskey, Michigan, for her beloved father's funeral. When she most needs comfort, her husband is distant and her siblings antagonistic – and the solace an old sweetheart offers is almost too much to resist. In the end, going home to the shores of Little Traverse Bay is an emotional and spiritual journey for Ellen – a rediscovery of what is truly important and eternal in her life.
---

The Berenstain Bears Learn About Heaven
by Mike Berenstain
KINDLE BARGAIN #ad
Young children are encouraged to ask big questions about heaven in this inspiring addition to the Berenstain Bears Living Lights™ series. As they read about Sister Bear and her curiosity about what heaven is, readers have the perfect opportunity to ask their own questions and discuss what heaven is, where it is, how you get there, and more.
---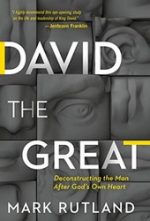 David The Great
by Mark Rutland
KINDLE BARGAIN #ad
KINDLE NOOK AUDIBLE KOBO APPLE
KING DAVID was a complicated, conflicted man of flesh. But too often he is viewed as an Americanized shepherd boy on a Sunday school
felt board or a New Testament saint alongside the Virgin Mary. Not only does this neglect one of the Bible's most complex stories of sin and redemption; it also bypasses the gritty life lessons inherent in the amazing true story of David.