Tuesday's Christian eBooks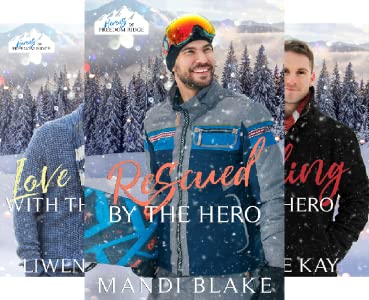 Heroes of Freedom Ridge Series
by Multiple Authors
KINDLE BARGAIN #ad
Check out Heroes of Freedom Ridge Series
Books 1, 2, 3  and 6 are on sale for a limited time!
Visit Freedom, Colorado and enjoy the faith, friendships, and forever-afters of the Heroes of Freedom Ridge in this Christian Christmas romance.
Rescued by the Hero – Book 1; Love Pact with the Hero – Book 2;
Healing the Hero – Book 3; Stranded with The Hero – Book 4;
Reunited with the Hero – Book 5; Forgiven by the Hero – Book 6;
Guarded by the Hero – Book 7
---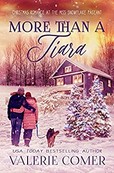 More Than a Tiara
by Valerie Comer
LIMITED TIME FREE #ad
A delightful Christmas romance that will leave you cherishing the heart of Christmas!
Marisa Hiller abandoned her modeling career to nurse a broken heart in Montana, far from the photographer who ruined everything. Her family farm is now part of a CSA program teaching gardening and cooking to single moms, but when the coordinator begs her to represent the program in the Miss Snowflake Pageant, Marisa balks.
Jase Mackie has long regretted the hot accusations he'd flung at Marisa over two years before. God has forgiven him but hasn't answered his prayer to bring Marisa back into his life… until Jase finds himself out West as the official photographer for a beauty pageant, face to face with the woman he's never forgotten…
Check out:
(Christmas Romance at the Miss Snowflake Pageant Series)
---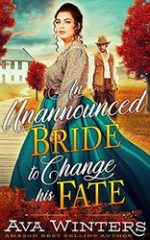 An Unannounced Bride to Change his Fate
by Ava Winters
KINDLE BARGAIN #ad
Brand New Release from Ava Winters.
He is a man shackled by his past. She's a wife driven by the need to belong. Will an unwanted ad bound their yearning hearts forever?
Rachel could have never know that life could be so hard. When she and her mother are the sole survivors of a cholera outbreak in her community, they decide to flee out West. Getting married to the insufferable Thomas though makes Rachel wonder if this is her true destiny. How can she protect her growing love and family from a saboteur from the inside?
After Thomas serves time for illegal fighting, he's ready to get back to his ranch and his family. A tragic surprise leads him to accept an unwanted marriage with Rachel…
---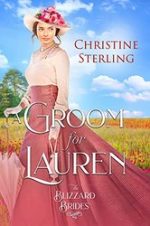 A Groom for Lauren
by Christine Sterling
KINDLE BARGAIN #ad
Brand New Release from Christine Sterling.
A woman who must marry for appearances, a man who needs to marry to secure his future. Can a marriage of convenience be just what they need?
Lauren Hale lost everything she valued. Her high society home, her family, friends, and now her husband. Why did she ever think moving west to a small town like Last Chance was a good idea? Now, a widowed mother with a five-month-old, she is being pressured to remarry by the local pastor. What she doesn't expect is a handsome stranger to come to her rescue… twice.
Dr. Christopher Spaulding prefers animals to people. But he needs to find a wife and soon, otherwise he will lose his inheritance and the funds needed to open his own veterinary clinic. Hearing of a town where most of the women are widows, he pens a letter and heads west.
---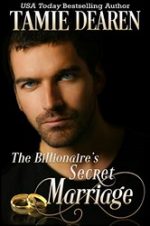 The Billionaire's Secret Marriage
by Tamie Dearen
LIMITED TIME FREE #ad
Stephanie Caldwell fell in love with her boss, but he's too clueless to notice. And being blind is no excuse!
Steph doesn't care that Bran is blind—at least he'll never see the longing looks she gives him. If only she could warn him about the lack of love on his conniving fiancée's face. But Steph has to keep her mouth shut, or she could lose her job, along with the health insurance that keeps her daughter alive.
Billionaire Branson Knight knows women regard him as a pitiful blind man, his wealth his only attraction. So his engagement is merely a means to an end…
Can Stephanie stand by while Bran's devious fiancée coerces him into a quickie marriage? Or will she lose her temper… and everything else along with it?
Check out:
(The Limitless Clean Billionaire Romance Series)
---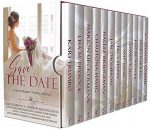 Save the Date Collection
by Multiple Authors
KINDLE BARGAIN #ad
Weddings for every season and occasion. Adventures, mishaps, and dream destinations—this collection has it all!
As our guest of honor, you're cordially invited on a journey through twelve heartwarming and inspirational novellas that will take you from small-town America to romantic Paris, from the sunny shores of Hawaii to New Zealand. Office romances, friends-to-lovers, second chances, and more await you in these stories full of forgiveness, redemption, laughter, and love.
Say "I do" and claim your copy of this limited-time anthology by your favorite USA Today and bestselling Christian romance authors!
---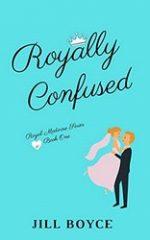 Royally Confused
by Jill Boyce
KINDLE BARGAIN #ad
Isn't it every girl's dream to become a princess? Not Claire Thomson's. An orthopedic surgeon, Claire enjoys the rigors of surgery and medical research. Her dream of landing a spot at Halford University in Boston seems so close she can taste it. As the top academic center in the nation, it lies just a few miles from her sole living relative and best friend – Margaret Thomson, her granny…
Claire reads a letter written to her by her mother, finally sharing the truth about her father's identity – the prince of Amorley. Sadly, he too has recently passed away…
Along the way, Claire almost collides with a man on horseback, Ethan Kane, who is handsome and kind, and as she later discovers, promised to marry Abigail Fulton, daughter of a wealthy parliament member.
Will Claire have to sacrifice her stethoscope for love, for a crown?
---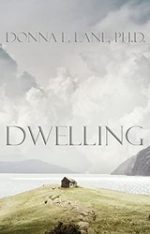 Dwelling
by Donna E. Lane Ph.D.
KINDLE BARGAIN #ad
Brand New Release from Donna E. Lane Ph.D.
Jesus said He was going to make ready a dwelling place for you (John 14:2-3). But where is His dwelling place? In heaven? In your heart?
The answer is both.
Dwelling explores the transformational experience received through deepening relationship with Christ. Using imagery, symbolism, story, and an abundance of Scripture, and combining the best knowledge in neurology and psychology with impassioned Biblical analysis,  Dwelling leads you into a deep dive of personal exploration and growth in faith, taking the reader by the hand and leading them to the path of partnership with Christ to prepare for His indwelling.
Dwelling faces those issues head-on, without fear, and challenges you to look in the mirror and acknowledge the hard work you and Jesus must do together to achieve holiness and live in the Kingdom of God.
Through these truths, Dwelling enlightens both believers and nonbelievers in how to live in the Kingdom of God now.
---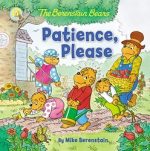 The Berenstain Bears Patience, Please
by Mike Berenstain
KINDLE BARGAIN #ad
Young readers will develop an understanding of the virtues of trust and patience in this addition to the Living Lights™ series of Berenstain Bears books. Brother, Sister, and Honey Bear teach children how to develop patience through their gardening experience.
---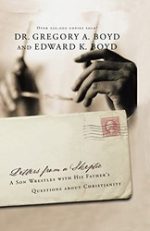 Letters from a Skeptic
by Dr. Gregory A. Boyd, Edward Boyd
KINDLE BARGAIN #ad
KINDLE NOOK AUDIBLE KOBO APPLE
Greg Boyd and his father, Ed, were on opposite sides of a great divide. Greg was a newfound Christian, while his father was a longtime agnostic. So Greg offered his father an invitation: Ed could write with any questions on Christianity, and his son would offer a response.
Letters from a Skeptic contains this special correspondence. The letters tackle some of today's toughest challenges facing Christianity…
---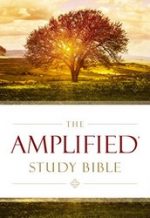 The Amplified Study Bible
by Zondervan
KINDLE BARGAIN #ad
Grasp the full meaning behind the original Greek and Hebrew texts with the first-of-its-kind Amplified® Study Bible, featuring verse by verse study notes and the text of the newly revised Amplified translation.
The Amplified® translation was created to deliver enhanced understanding of the rich nuances and shades of meaning of the original Bible languages. For this kind of study, no working knowledge of Greek or Hebrew is required—just a desire to know more about what God says in his Word.