Tuesday's Christian eBooks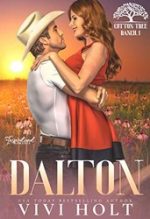 Dalton
by Vivi Holt
LIMITED TIME FREE #ad
When an injured bronc rider inherits a dilapidated ranch, his two brothers help him fight to save his dream. While he finds himself falling for the woman who drives him crazy.
Everything in Hazel's perfect life is going according to plan. But she's in for a surprise. When her best friend and roommate takes ill, Jenny begs Hazel to fill in for her on a trip to South Georgia to deliver a horse to a ranch. But a stint on a horse ranch in her Jimmy Choos isn't exactly what Hazel had in mind for her summer break.
When Dalton Williams takes a spill from a bronc at the last rodeo of the season, his life changes forever. Uncertain about his future, his fortunes take another turn when Grandpa Joe bequeaths him a dilapidated horse ranch in his will…
Check out:
(Cotton Tree Ranch Series)
---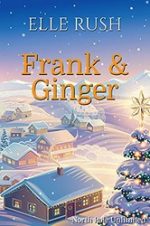 Frank and Ginger
by Elle Rush
KINDLE BARGAIN #ad
Brand New Release from Elle Rush.
Three weeks till Christmas… Back in the spring, when Ginger Malone asked charming inventor Frank Cardinal on a date, she struck out hard. Now, at their last business meeting of the year, something has changed, but Ginger won't ask Frank if he's flirting with her in case she's misreading the signs again.
Two hearts afraid to take a chance… Caught flat-footed and tongue-tied when the gorgeous North Pole Unlimited representative asked him out, Frank panicked, and Ginger retreated. Now he's trying to get back to a place where he could have another shot with her, but he might be too late.
One elf-size matchmaker…
Check out:
(North Pole Unlimited Series)
---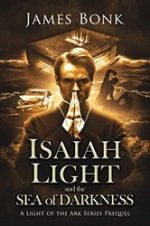 Isaiah Light and the Sea of Darkness
by James Bonk
KINDLE BARGAIN #ad
Brand New Release from James Bonk.
Isaiah felt so naive. All this time, the common thread of all the hurt people. Rebecca's instinct was right. The dreams of children turning to ash was leading him. The Sea of Darkness showed him where to stand. It was right in front of him, but he didn't see it. He underestimated the evil in the world, never thinking it would come for him or his wife or the youth of his church. This was evil in human form, not sinful human nature of greed or jealousy or lust; this was beyond that. And it was taking lives.
It was 1962. Isaiah Light and his wife Rebecca have built a small, yet steadily growing church in the North Florida area and live a quiet life worshiping God. Their lives change on the day Isaiah's father, Michael, passes down the family Bible that holds an ancient secret. A book that Isaiah doesn't know has been protected by his family for thousands of years…
Check out:
(Light of the Ark)
---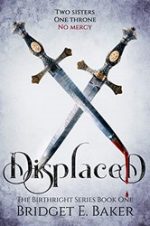 Displaced
by Bridget E. Baker
LIMITED TIME FREE #ad
My mom should have killed me the day I was born. Being a twin complicates the Evian line of succession, but Chancery Alamecha is fine letting Judica inherit the throne. After all, she's the stronger sister—the merciless fighter, the ruthless politician, and the groomed heir. But something unexpected happens when Chancery tries on her mother's staridium ring, forcing her into a role that she never wanted: the prophesied queen who will prevent the destruction of Earth.
Now I have to kill my sister. Judica, enraged by this turn of events, vows to do anything to reclaim her rightful place as empress. Including challenging Chancery to a battle to the death…
Check out:
(The Birthright Series)
---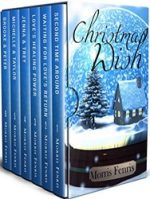 Christmas Wish Box Set
by Morris Fenris
KINDLE BARGAIN #ad
Inspirational stories of forgiveness, love, trust, and belief. A sweet clean Christian romance collection that will warm your heart and your soul all year long. You will not want to put this book down as you read beautifully written compelling HEA novels with lots of love and kindness and engaging characters.
All six stories are bound to delight.
Book 1: Second Time Around
Book 2: Waiting For Love's Return
Book 3: Love's Healing Power
Book 4: Jenna & Trey
Book 5: Michelle & Tyler
Book 6: Brooke & Peter
---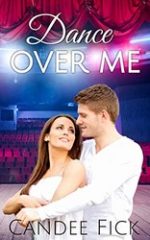 Dance Over Me
by Candee Fick
KINDLE BARGAIN #ad
Romance takes center stage…if she can avoid the backstage diva drama.
Danielle Lefontaine, an orphaned actress raised to the lullaby of Broadway, searches for her long-lost brother and her place on the stage. After a successful audition lands her a part in the same city his adoptive family had moved to, Dani believes she's finally close to finding her place to belong.
Meanwhile, Alex Sheridan is living his dream playing the trumpet at his family's dinner theater. He's got everything he ever wanted…except someone special to share it with. When Dani dances into his life, he hopes she's the missing piece to his heart but fears the bright lights of a bigger stage could steal her away…
Check out:
(The Wardrobe Dinner Theater Series)
---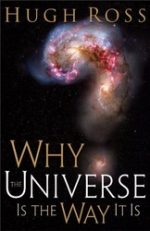 Why the Universe Is the Way It Is
by Hugh Ross
KINDLE BARGAIN #ad
Increasingly astronomers recognize that if the cosmos had not unfolded exactly as it did, humanity would not, could not, exist. Yet these researchers–along with countless ordinary folks–resist belief in the biblical Creator. Why? They say a loving God would have made a better home for us, one without trouble and tragedy. In Why the Universe Is the Way It Is, Hugh Ross draws from his depth of study in both science and Scripture to explain how the universe's design fulfills several distinct purposes. He also reveals God's surpassing love and ultimate purposes for each individual.
---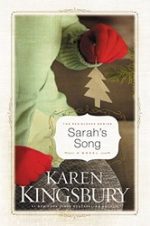 Sarah's Song
by Karen Kingsbury
KINDLE BARGAIN #ad
Every year Sarah Lindeman celebrates Christmas the same way, placing one special ornament on her tiny tree on each of the twelve days of Christmas. It is her time to remember where she came from, who she is today, and how long ago a song gave her another chance at love.. But this year the ritual is different. This year a desperate young woman is listening, a nurse who cares for Sarah at the Greer Retirement Village. Sarah senses a familiar struggle in the woman's soul and shares the story of her song in hopes that it will help her find healing, as it did Sarah so long ago.
Check out:
(The Red Gloves Series)
---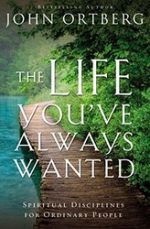 The Life You've Always Wanted
by John Ortberg
KINDLE BARGAIN #ad
Ignite a deeper, more vibrant relationship with God that impacts not just your spiritual life but every aspect of your daily life. John Ortberg calls readers back to the dynamic heartbeat of Christianity–God's power to bring change and growth–and reveals how and why transformation takes place.
The Life You've Always Wanted offers modern perspectives on the ancient path of the spiritual disciplines. But it is more than just a book about things to do to be a good Christian. It's a road map toward true transformation that starts not with the individual but with the person at the journey's end–Jesus Christ.
---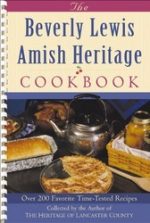 Amish Heritage Cookbook
by Beverly Lewis
KINDLE BARGAIN #ad
Amish Recipes from the Collection of Beverly Lewis
A homespun, authentic collection of Amish recipes collected over the years by Beverly Lewis. Many are from her grandmother and other family members as well as dear friends from the Amish world she writes about with such power and authenticity. Now she lovingly shares these with her millions of readers who have come to treasure her fictional insights into Amish life. The additional Amish sayings and line drawings make for an appealing gift.