Tuesday's Christian eBooks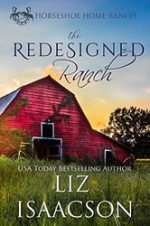 The Redesigned Ranch
by Liz Isaacson
LIMITED TIME FREE #ad
The ranch foreman, the fiery new designer he hires, and an old flame that could burn them both…
Jace Lovell only has one thing left after his fiancée abandons him at the altar: his job at Horseshoe Home Ranch. He throws himself into becoming the best foreman the ranch has ever had—and that includes hiring an interior designer to make the ranch owner's wife happy.
Belle Edmunds is back in Gold Valley after she lost her job at a prestigious design firm in California. She's working for a conglomerate, but she's desperate to build a portfolio that she can use to start her own firm in Montana…
Check out:
(Horseshoe Home Ranch Series)
---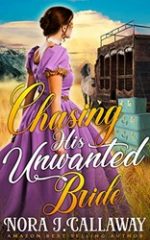 Chasing his Unwanted Bride
by Nora J. Callaway
KINDLE BARGAIN #ad
Brand New Release from Nora J. Callaway
An unexpected bet makes him a husband. A sudden heartbreak brings her to him. Will they manage to find love in this new Western lifestyle when they're so opposite from each other?
Leonie never expected to find the man she was promised to woo her step-sister. Now, with no one to hold her and a broken heart, she travels West and gets married to an unknown rancher. Living by his side though and taking care of his siblings is the most challenging task she has ever taken on. How can she show this gruff man that love is meant to liberate and not to confine?
Jessie never wanted to settle down with a wife. However, with his brother now long gone, he cannot defy his manly honor…
---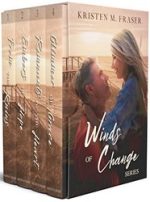 The Winds of Change Series Box Set
by Kristen M. Fraser
KINDLE BARGAIN #ad
A journey of new beginnings for the Tolbrook family as God makes something beautiful from something broken.
Sandra Tolbrook feels lost and without purpose after the death of her husband. When her children encourage her to sell the family home and move into an over-50's retirement resort, life takes an unexpected turn when she meets the resort's most eligible bachelor – Damien Kensington.
Embarking on a road trip together, exploring beautiful parts of the Australian east coast, was never something Sandra imagined for herself. But God always has other plans, and time on the road with Damien – discovering a wonderful friendship, a deeper faith, and an abandoned house, might just be the answer to Sandra's prayers…
---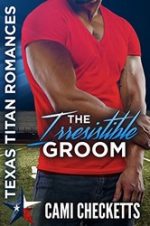 The Irresistible Groom
by Cami Checketts
LIMITED TIME FREE #ad
A vivacious sports agent loses her memory and her safe, perfectly-planned life. The only hope is a tough security specialist who for some reason she's never allowed herself to fall for.
Claire Tucker is a feisty and successful sports agent. When she wakes up with amnesia she has to rely on a handsome security specialist, which doesn't seem too bad … until she learns she's known him for years and has repeatedly rejected his date offers. When Brig proves irresistible to her, she realizes she needs to guard her heart until she gets some answers or her past will catch up to her.
Brig Hunsaker has everything he needs, except the sassy lady he's had a crush on for years…
Check out:
(Cami's Texas Titan Series)
---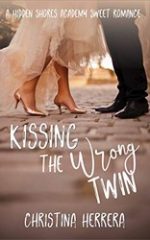 Kissing the Wrong Twin
by Christina Herrera
KINDLE BARGAIN #ad
Identical twin brothers attracted to one girl. What could go wrong?
I have a crush on Brennan Lopez. The only problem is I keep getting him mixed up with his identical twin brother. Not to mention, the most powerful girl in my high school is out to get me. Why?
Let's just say we haven't ever been besties. And we both like the same guy. But I'm not going to let her get to me. I'm going to get Brennan Lopez's attention if it's the last thing I do. Even if it means talking to his identical twin brother until he notices me.
Check out:
(Hidden Shores Academy Series)
---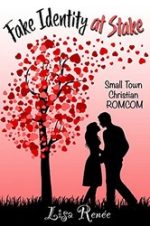 Fake Identity at Stake
by Lisa Renee
KINDLE BARGAIN #ad
Enemies to Lovers. Mistaken Identity. Love in Disguise.
Jake Mardell's quiet life is thrown into a flurry when the new neighbor's Great Dane kills his late grandmother's prize chickens. He's outraged that the woman can't control her yapping dog. And to think he was going to welcome her into the neighborhood.
Under a witness protection program, Kaitlyn Hughes (alias Charlotte), is shocked upon first meeting a furious Jake, on her porch in his boxer shorts returning her dog. He doesn't accept her apology, so she calls him a Christian hypocrite and slams the door in his face.
To make matters worse, the next day Jake slashed an incorrect delivery on his porch, which cut through a wedding dress. Kaitlyn accuses him of revenge…
Check out:
(Small Town Christian Romcom Series)
---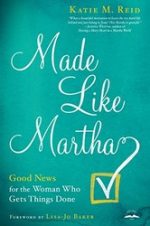 Made Like Martha
by Katie M. Reid, Lisa-Jo Baker
KINDLE BARGAIN #ad
KINDLE NOOK AUDIBLE KOBO APPLE
Are you a Martha who feels guilty for not being a Mary? Do you want to sit at Jesus's feet as Mary did—but you feel the need to get things done? In Made Like Martha, Katie M. Reid invites you to exchange try-hard striving for hope-filled freedom without abandoning your doer's heart in the process.
Through her own story and rich biblical illustrations, Katie reminds you that it's not important whether you sit and listen or stand and work. What matters is that your spiritual posture is one of a beloved daughter who knows she doesn't need to earn God's love…
---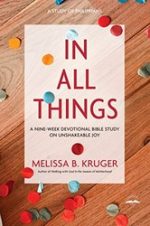 In All Things
by Melissa B. Kruger
KINDLE BARGAIN #ad
With warm teaching and perspective-shifting insights, Bible teacher Melissa Kruger walks you through the power-packed words of the apostle Paul to believers in the early church to discover what he knew about the secret to unshakeable peace–and how his insights can help any woman discover a secure and satisfying contentment no matter what life may bring. With the Scripture passages printed right in the book for handy reference, this is an ideal resource for busy women of any life stage who want to deepen their spiritual life and increase their daily joy.
---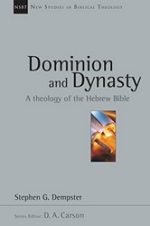 Dominion and Dynasty
by Stephen G. Dempster
KINDLE BARGAIN #ad
Christian theologians rarely study the Old Testament in its final Hebrew canonical form, even though this was very likely the Bible used by Jesus and the early church. However, once read as a whole, the larger structure of the Hebrew Bible (Tanakh) provides a "wide-angle lens" through which its contents can be viewed.
In this stimulating New Studies in Biblical Theology volume, Stephen G. Dempster argues that, despite its undoubted literary diversity, the Hebrew Bible possesses a remarkable structural and conceptual unity. The various genres and books are placed within a comprehensive narrative framework which provides an overarching literary and historical context.