Wednesday's Christian eBooks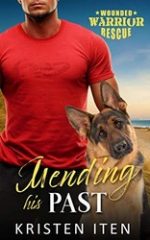 Mending His Past
by Kristen Iten
A hurting ex-soldier and his dog, a single mother and her little girl, and the second chance at love they never saw coming.
Sergeant Trent Roland came home from a painful deployment a while ago, but the barricades around his heart are still up. Now, he's rebuilding the storm-damaged Wounded Warrior Rescue in the seaside town of Liberty Cove. But he's counting the days until he can put the small-town life behind and get lost in the big city.
While in town, a German shepherd from the rescue begins to break through his defenses. But nothing can prepare him for the moment he comes face-to-face with the woman he left behind ten years ago. He wants to love her like she deserves, but fears he's forgotten how…
Check out:
(Second Chance Romance in Liberty Cove Series)
---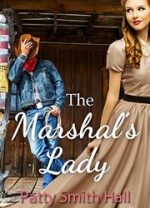 The Marshal's Lady
by Patty Smith Hall
KINDLE BARGAIN #ad
A Lady on the Run. After her brother dies protecting her honor, Cynthia Gowan runs halfway around the world to Stoney Creek, Wyoming, hoping to build a new life far from her home in York. But her tea room–her only means of making a living–may never open, not if U.S. Marshall Reed Chaffee has any say about it.
A Marshall on a Mission. U.S. Marshall Reed Chaffee has a job to do–close down the notorious bar where the territory's most violent criminals found a haven. He never expected to find a lady like Cynthia Gowan there, nor does he believe her claims that she plans to turn it into a tea room. Cindy and Reed agree to work together catching the bar's lawless patrons while opening the tea room, neither expect the tender feelings that blossom between them.
---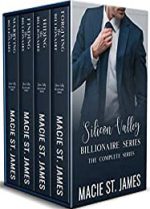 Silicon Valley Billionaire Series Complete Collection
by Macie St. James
KINDLE BARGAIN #ad
You'll get four full-length novels, each featuring a Silicon Valley billionaire and feel-good clean romance in this contemporary box set. They have it all…except the one thing that matters most.
Forgiving the Billionaire
Hiding the Billionaire
Finding the Billionaire
Marrying the Billionaire
"An amazing well written collection of 4 good clean fun stories. These engaging storylines were wonderful journeys that include a variety of setups, twists and turns, forgiveness, romance and more with great fun banter. They kept interested page after page with believable, identifiable, and well developed characters." by Amazon Customer
---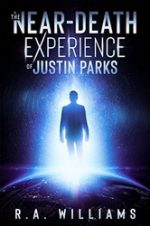 The Near-Death Experience of Justin Parks
by R.A. Williams
KINDLE BARGAIN #ad
This novel, written from a Christian worldview, was inspired by Imagine Heaven, The New York Times Best Seller, by Pastor John Burke.
Every year, thousands of people cheat death and come back to life. Many people have near-death experiences that offer a glimpse of Heaven. But none of these can compare to the remarkable near-death experience of Justin Parks.
The past three years haven't been easy for Justin, causing him to lose faith in a loving, personal God. His fiancée gets killed by a drunk driver a week before their wedding. A year later, after enrolling in the police academy in a misguided effort to avenge his fiancée's death, he mistakes a Black church pastor for an armed robber, shoots him in the chest, and nearly kills him. In the following months, he struggles with the backlash from the public outrage caused by negative media attention…
---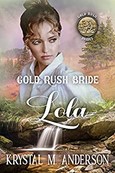 Gold Rush Bride Lola
by Krystal M. Anderson
KINDLE BARGAIN #ad
Brand New Release from Krystal M. Anderson.
Leaving her home town and all her beloved friends behind was like stepping out of the frying pan and into the fire.
When Lola Fields' father insists he and his family leave Idaho territory and move on to a new gold bonanza, she doesn't think her heart can withstand the ache of missing the faces she knows and loves. And just when Michael Tanner was starting to notice her! She'd dreamed of dancing with the youth at the Yule Ball for years. Even her endless optimism was failing her, especially in the face of the wild, ruthless boomtown she and her father land in.
Secrets and danger lurk at nearly every turn, and when Lola meets a handsome young man who sweeps her off her feet, she begins to think he might have something to do with the 601 Vigilantes, a mysterious group who have taken the law into their own hands…
---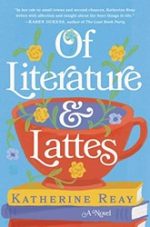 Of Literature and Lattes
by Katherine Reay
KINDLE BARGAIN #ad
KINDLE NOOK AUDIBLE KOBO APPLE
Return to the cozy and delightful town of Winsome, where two people discover the grace of letting go and the joy found in unexpected change.
After fleeing her hometown three years earlier, Alyssa Harrison never planned to return. Then the Silicon Valley start-up she worked for collapsed and turned her world upside down. She is broke, under FBI investigation, and without a place to go. Having exhausted every option, she comes home to Winsome, Illinois, to regroup and move on as quickly as possible. Yet, as friends and family welcome her back, Alyssa begins to see a place for herself in this small Midwestern community…
---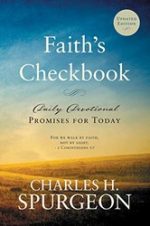 Faith's Checkbook
by Charles H. Spurgeon
LIMITED TIME FREE #ad
Faith's Checkbook is a one-year devotional meant to encourage you to take God at His Word – to take hold of God's promises by faith. Each day you will be presented with a specific promise from the Bible, along with accompanying exhortation by Charles Spurgeon.
This is your "spiritual checkbook," if you will. God's bank account of provision is ample, and it cannot be overdrawn. Every situation you might face is equally met with a promise that, if accepted, will sufficiently see you through.
---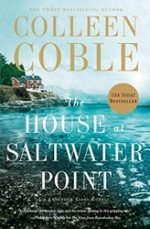 The House at Saltwater Point
by Colleen Coble
KINDLE BARGAIN #ad
KINDLE NOOK AUDIBLE KOBO APPLE
When a house flipper's sister vanishes and the Coast Guard suspects she faked her own death, Ellie must find her sister before they do.
Ellie Blackmore is making a name for herself as a house flipper. But when her sister Mackenzie disappears, Ellie can't focus on anything but uncovering what happened. Her only clue is the bloodstain on the deck of Mackenzie's boat. Ellie knows her sister isn't on the best of terms with her ex-husband, Jason, but he wouldn't kill her – would he?
Check out:
(A Lavender Tides Series)
---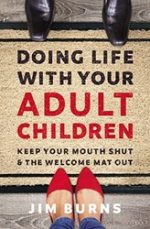 Doing Life with Your Adult Children
by Jim Burns
KINDLE BARGAIN #ad
KINDLE NOOK AUDIBLE KOBO APPLE
Are you struggling to connect with your child now that they've left the nest? Are you feeling the tension and heartache as your relationship dynamic begins to change? In Doing Life with Your Adult Children, bestselling author and parenting expert Jim Burns provides practical advice and hopeful encouragement for navigating this tough yet rewarding transition.
If you've raised a child, you know that parenting doesn't stop when they turn eighteen. In many ways, your relationship gets even more complicated–your heart and your head are as involved as ever, but you can feel things shifting, whether your child lives under your roof or rarely stays in contact.
---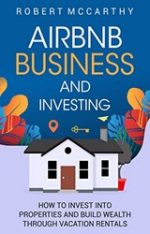 Airbnb Business and Investing
by Robert McCarthy
KINDLE BARGAIN #ad
Master the art of building wealth by investing in an Airbnb business! Have you ever tried vacation rental and failed to attract the right clients? What are the costs involved in an Airbnb investment? How do you make money from Airbnb?
This comprehensive book is about investing in the hospitality industry through Airbnb, an online marketplace. It explains everything you need to know about this sector which is significantly gaining prominence in different regions across the globe. The guide provides tips on maximizing your Airbnb revenue using rental properties…