Friday's Christian eBooks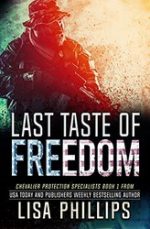 Last Taste of Freedom
by Lisa Phillips
LIMITED TIME FREE #ad
The fight is coming home.
For trophy daughter Nora Gladstone, life isn't as perfect as it appears. When her only ally is suspiciously killed the truth of her father's treachery leaks through the cracks of the facade that is her whole world.
Zander O'Connell and his team of former soldiers and spies accept a mission from the director of the Department of Clandestine Services. A quick search of the objective before they destroy it reveals a sinister picture…
Unless they survive, this will be their Last Taste of Freedom.
Check out:
(Chevalier Protection Specialists Series)
---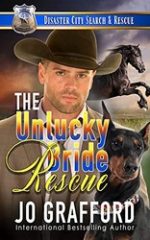 The Unlucky Bride Rescue
by Jo Grafford
KINDLE BARGAIN #ad
Brand New Release from Amazon Bestselling Author Jo Grafford.
A Texas Ranger balancing a demanding career with a new marriage, his lovely bride who leaves him without an explanation, and the financial fraud scheme that puts their hearts back on a collision course…
It's not easy being a Texas Ranger. Seven Colburn is living proof of that. He can tell anyone who wants to listen about the long hours, constant danger, mediocre pay, and number of marriages that don't survive his choice of careers, including his own. When a mysterious donor pays his tuition at the prestigious Disaster City Search and Rescue Academy, he jumps at the opportunity to bury his heartache in a new challenge. Only to discover his wife has accepted the position of head chef at the same academy…
Check out:
(Disaster City Search and Rescue Series)
---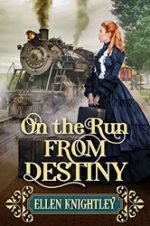 On the Run From Destiny
by Ellen Knightley
KINDLE BARGAIN #ad
Amelie Delacroix's parents are pushing her into marrying a man she dreads. In her desperation, she accepts a proposal of marriage from Benjamin, a man she's never met, and leaves her hometown as a mail-order bride. Being the spitting image of her grandmother who was a "Casket Girl" makes things more complicated as she enters her new life. But what actually scares her is the man she's left behind and his future intentions…
Will Benjamin be someone she can trust or will she regret her decision?
Forging a life together seems like a real possibility for Benjamin and Amelie until the appearance of a mysterious man who threatens everything they have built…
---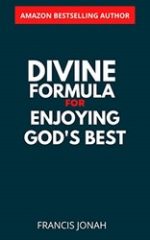 Divine Formula For Enjoying God's Best
by Francis Jonah
KINDLE BARGAIN #ad
Brand New Release from Francis Jonah.
There are PREDICTABLE formulas in the Bible which Guarantee Results.
In the pages of this book, you will discover simple and easy to follow formulas that will cause you to enjoy God's best on your life. The best of God is available for you to enjoy. The only reason you are not enjoying it is because of ignorance or a lack of know how to enjoy them . The exciting formulas in this book will prove to you that God is so wise and has the solution to every problem on earth.
Check out:
(Divine Formula For Increase)
---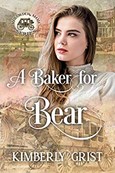 A Baker for Bear
by Kimberly Grist
KINDLE BARGAIN #ad
A debutante baker with a stammer. A compulsive widowed blacksmith with two young daughters. Will they find a way to coexist or even better, forge a romantic relationship? Ada Pike longs to leave the life of a socialite and use her skills as a baker to love and nurture a family. A move to the country will perfectly suit her first steps into life on her own. Barrett Montgomery rejects the idea of a mail-order bride. What he needs is a housekeeper – someone he can fire if things don't work out the way he likes.
Can a matchmaking agency work miracles to bring two people with opposing goals together?
---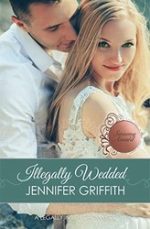 Illegally Wedded
by Jennifer Griffith
KINDLE BARGAIN #ad
The lawyer needs a wife to get the promotion. The chef needs a husband to stay in the country. They both need this contract marriage. Love will complicate the menu.
WINNER OF A 2018 SWOONY AWARD for excellence in clean secular romance.
Piper Quinn has a great thing going. She's young, talented, and the sole chef at San Antonio's hottest lunch bistro. She and her business partner just have to stay open one year to be eligible for the coveted Texas Star.
Days before eligibility, Piper gets terrible news: she's getting deported. To New Zealand…
Check out:
(Legally in Love Series)
---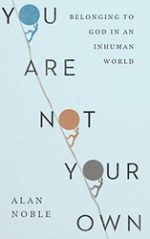 You Are Not Your Own
by Alan Noble
KINDLE BARGAIN #ad
KINDLE NOOK AUDIBLE KOBO APPLE
"You are your own, and you belong to yourself."
This is the fundamental assumption of modern life. And if we are our own, then it's up to us to forge our own identities and to make our lives significant. But while that may sound empowering, it turns out to be a crushing responsibility―one that never actually delivers on its promise of a free and fulfilled life, but instead leaves us burned out, depressed, anxious, and alone. This phenomenon is mapped out onto the very structures of our society, and helps explain our society's underlying disorder.
But the Christian gospel offers a strikingly different vision.
---
Sunday Roasts
by Betty Rosbottom
KINDLE BARGAIN #ad
Sunday Roasts contains eighty tantalizing recipes for slow-roasted meats, fowl, fish, and vegetables that compel a Sunday cook to enjoy good food and good living. With an earthy sensibility that celebrates quality ingredients, beloved cookbook author Betty Rosbottom pairs the special – an herb rub, a tapenade, a twist of citrus – with the primal: a substantial cut of meat.