Wednesday's Christian eBooks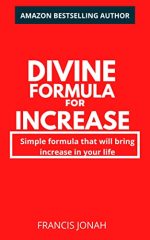 Divine Formula For Increase
by Francis Jonah
LIMITED TIME FREE #ad
Simple Formula That Will Bring Increase Into Your Life: Wisdom Keys for Guaranteed Results : You will see growth and multiplication with this book
There are PREDICTABLE formulas in the Bible which Guarantee Results
In the pages of this book, you will discover simple and easy to follow formulas that will bring increase, growth and multiplication in whatever you are doing.
If you want financial increase because you have been stagnant for long, you will receive it. If you want church, spiritual or business growth, you will receive it. The exciting formulas in this book will prove to you that God is so wise and has the solution to every problem on earth.
---
Inn Dependence
by Angela Castillo
For two years, Sammi Morretti has cared for her home-bound grandfather. Now he's gone, and she's left with no place to go.
Then a mysterious aunt invites her to work at a tiny bed and breakfast in the town of Wimber. Can the Main Street women and a kind youth pastor with a dangerous history pull Sammi out of the darkness she's lived in for so long?
"Filled with charm and endearing characters, it is a sweet read." – Amazon Reviewer
Check out:
(Miss Main Street Series)
---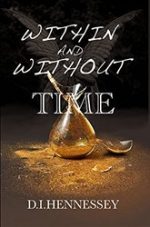 Within and Without Time
by D. I. Hennessey
KINDLE BARGAIN #ad
Be prepared to laugh and cry, to be inspired, and find your heart rejoicing! Experience the Origin of a Prophet …
When a sixteen-year-old boy is suddenly caught up in a series of miraculous encounters, it heralds an adventure that will transform his life, rock his town, and trigger events that will ultimately change the world!
Befriended by a powerful angelic warrior, Jimmy finds himself in the center of God's plan for Earth's final Great Revival. The beginning of God's amazing harvest at the End of the Age. Like an intense roller coaster, the journey he experiences is exciting and unpredictable. Heartwarming, as well as heart-rending. God prepares him for a mission more extraordinary than anything he could have imagined, placing him in the rare company of ancient prophets and apostles alike…
Check out:
(Within & Without Time Series)
---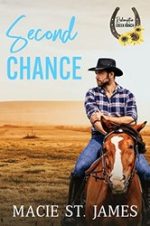 Second Chance at Redemption Creek Ranch
by Macie St. James
KINDLE BARGAIN #ad
Everyone needs a second chance. At Redemption Creek Ranch, four business-minded cowboys find love, forgiveness, and family.
Dane Armstrong never got over his first love. So when she shows up for an event at his ranch, two young children in tow, he's frozen with fear. He had no idea her husband had walked out on her, leaving her with two children to raise.
Sloane Winston is doing everything she can to hold it all together. She made a bad decision that resulted in the two biggest gifts life could give her. But working at the local diner barely brings in enough to pay for babysitting. Seeing Dane Armstrong again reminds her of what could have been, if only she'd stayed with her wealthy, amazing high school boyfriend. But there was a reason they broke up, and that reason hasn't changed…
Check out:
(Redemption Creek Ranch Series)
---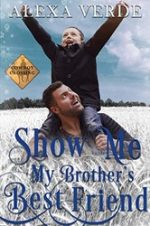 Show Me My Brother's Best Friend
by Alexa Verde
KINDLE BARGAIN #ad
A woman in jeopardy and her brother's best friend she'd once crushed on meet again before Christmas… When the past comes knocking on her door, will she choose love or closure? A sweet, clean, wholesome romance with a happily-ever-after!
After discovering her father's infidelity, Jenna Clark used the chance of a European trip with a friend to flee as far from the painful secret as she could. She'd never imagined she'd fall in love and stay for years searching for her fiancé, who disappeared two days before their wedding. Finally back at the family ranch for Christmas, she discovers that her brother's best friend, a cowboy with a nephew he takes care of, just might thaw out her frozen heart…
But mysterious things are happening at the ranch. And new traces of her fiancé are found in Europe… 
Check out:
(Cowboy Crossing Romances Series)
---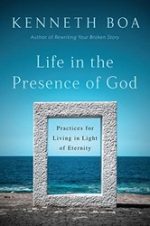 Life in the Presence of God
by Kenneth Boa
KINDLE BARGAIN #ad
KINDLE NOOK AUDIBLE KOBO APPLE
God is everywhere and always with us. So why don't we experience his presence more?
Life is full of distractions, and our 24/7 news cycles and social media drown out the voice of God. It's hard to discern God's presence amid the hubbub. But experiencing God is not just for the super-spiritual or ultra-mature. Every Christian can learn to cultivate a greater awareness of God in the everyday.
Ken Boa offers a contemporary guide to practicing the presence of God. Using biblical foundations, living and historical examples, and evidence from neuroscience, Ken reveals how we can walk with God and abide in his presence.
---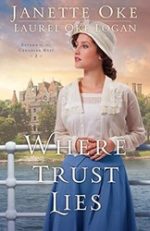 Where Trust Lies
by Janette Oke
KINDLE BARGAIN #ad
KINDLE NOOK AUDIBLE KOBO APPLE
She loves her friends and students in the West, but family obligations have called her home. Where does she truly belong?
After a year of teaching in the Canadian West, Beth Thatcher returns home to her family. She barely has time to settle in before her mother announces plans for a family holiday–a luxurious steamship tour along the eastern coast of Canada and the United States. Hoping to reconnect with her mother and her sisters, Beth agrees to join them, but she quickly realizes that things have changed since she went away, and renewing their close bond is going to be more challenging than she expected.
Check out:
(Return to the Canadian West Series)
---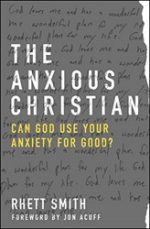 The Anxious Christian
by Rhett Smith
KINDLE BARGAIN #ad
Many Christians believe the answer to this question is yes! Understandably, then, many Christians feel shame when they are anxious. They especially feel this shame when well-intentioned fellow believers dismiss or devalue anxiety with Christian platitudes and Bible verses.
Rhett Smith, Licensed Marriage and Family Therapist, helps us understand anxiety in a new way. Rhett argues that, rather than being destructive or shameful, anxiety can be a catalyst for our spiritual growth. Using Biblical thinking and personal examples, Rhett explains how anxiety allows us to face our resistance and fears, understand where those fears come from, and then make intentional decisions about issues such as career, marriage, money, and our spiritual lives.
---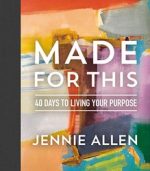 Made for This
by Jennie Allen
KINDLE BARGAIN #ad
KINDLE NOOK AUDIBLE KOBO APPLE
Have you ever asked yourself, "Why am I here?" Recognize your calling, find your place of service, and follow God to a life of purpose.
This 40-day journey is for you – and it might surprise you. What if God hasn't hidden His purposes for your life from you? That life doesn't have to be so exhausting and heavy and confusing all the time? That God has given you everything you need to live out the calling He has placed on your life right this minute as you read this?