Wednesday's Christian eBooks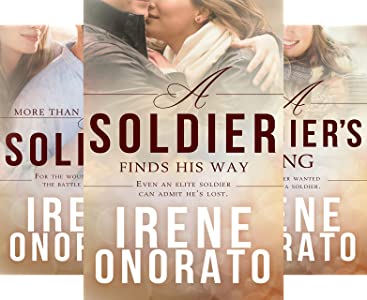 Forever a Soldier Series
by Irene Onorato
KINDLE BARGAIN #ad
Check out: Forever a Soldier Series
All books on sale for 0.99 cents each
A Soldier Finds His Way: Can a scarred and guarded man find it in him let someone love him?
More Than A Soldier: It's not the uniform that makes a man a hero.
A Soldier's Song: All he ever wanted was to be a soldier. He never counted on falling for his commanding officer's daughter.
---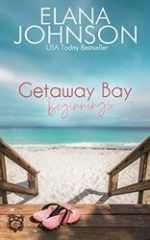 Getaway Bay Beginnings Collection
by Elana Johnson
LIMITED TIME FREE #ad
Escape to the beach this summer, even if you live in a landlocked region! The golden sand of Getaway Bay is calling you with three complete romances, each set on the unique, breathtaking, and relaxing beach!
You'll get three full-length, heartwarming and sweet romances in this boxed set. We've got billionaires, helicopter pilots, storms, rundown houses, and new high-rise hotels to create drama on the island. Each book starts a complete series set on Getaway Bay, and they all intersect one another!
The Island House
Aloha Hideaway Inn
The Perfect Storm
---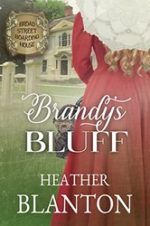 Brandy's Bluff
by Heather Blanton
KINDLE BARGAIN #ad
"Brandy, I caution you. Get hold of your temper. Don't do anything you'll regret." Whiskey heiress Brandy Dardanelle has been abandoned at the altar.
Seething from the sting to her family honor, she follows the lickspittle's trail to Denver. However, she doesn't even have time to unpack when she sees the errant ex-fiancé getting on another train. Afraid of losing her prey, Brandy brashly jumps aboard too.
Successful rancher Samuel Elliott, Jr., returning home after negotiating the cattle deal of a lifetime, must now convince his neighbors he's wise enough and mature enough to handle the details. When the pretty but sassy heiress confronts Sam on the platform, their wildly confusing argument blindsides him. Worse, Tess Hartford storms up, demanding Sam's proposal. Again.
---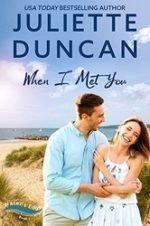 When I Met You
by Juliette Duncan
KINDLE BARGAIN #ad
A barmaid searching for purpose, a youth pastor searching for love
Since leaving home at the age of seventeen, Amelia Anderson has wandered from town to town, city to city, looking for meaning and purpose. Due to her upbringing and experience, the only jobs she lands are in sleazy bars where inappropriate remarks and unsolicited invitations from the male patrons are everyday occurrences.
When she arrives in the small town of Water's Edge, she's had enough. After fleeing the bar one evening, she meets a kindly, grey-haired woman who invites her to church. With nothing to lose other than her job, she agrees to go…
Check out:
(Water's Edge Christian Romance Series)
---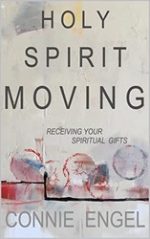 Holy Spirit Moving
by Connie Engel
KINDLE BARGAIN #ad
Brand New Release from Connie Engel.
MOVE IN YOUR SPIRITUAL GIFTS – Do you long to move in the power of God? Do you hunger for more of the Holy Spirit? If you desire to learn more about how to receive the gifts that the Holy Spirit of God has for you, then read this book by author, Connie Engel. She tells of her personal stories and includes Scriptures to minister on how the gifts of the Holy Spirit move in and through the believer.
Dive into what the Bible has to say about your relationship with the Holy Spirit and all nine of the supernatural gifts. Discover the divine wonders that await release in your life. Flow in the resurrection power of Jesus, and experience God. You will grow spiritually and be a minister of God to help build his church.
---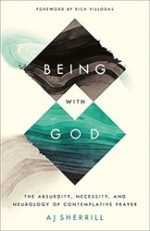 Being with God
by AJ Sherrill, Rich Villodas
KINDLE BARGAIN #ad
KINDLE NOOK AUDIBLE KOBO APPLE
All fruitful doing must begin with being. For many Christians, it's easy to be swept up into the fast pace of modern life, desiring to do much for God. But we struggle to slow down and be with God.
According to pastor, Enneagram teacher, and author AJ Sherrill, being with God is what empowers doing for God. Sherrill shares his own journey from "busy" Christianity to the ancient paths of contemplative practices. He equips readers to integrate rhythms of stillness, silence, and solitude, offering step-by-step guidance and examples of finding solitude both personally and on retreats.
Sherrill warns that making these changes appears absurd in a society where time is money, productivity is central, and hurry is a way of life. He guides readers gently through the beginning and often confusing stages of contemplative practice.
---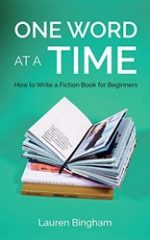 One Word at a Time
by Lauren Bingham
KINDLE BARGAIN #ad
Who doesn't love a good story?
It has been said that within each of us are endless tales to tell, and many of us are eager to let those stories out into the world. Whether the pen touches the paper or the fingers press the computer keys, there's something vividly romantic about the act of writing stories.
But how, exactly, does one start a fiction piece? Do you just sit there and type while the muses whisper sweet nothings in your ear? Author Lauren Bingham is here to provide tips on how to write fiction for folks who are timid, terrified, or somewhere in between…
---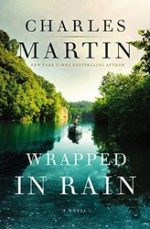 Wrapped in Rain
by Charles Martin
KINDLE BARGAIN #ad
KINDLE NOOK AUDIBLE KOBO APPLE
An internationally famous photographer, Tucker Mason has traveled the world, capturing things other people don't see. But what Tucker himself can't see is how to let go of the past and forgive his father.
On a sprawling Southern estate, Tucker and his younger brother, Mutt, were raised by their housekeeper, Miss Ella Rain, who loved the motherless boys like her own. Hiring her to take care of Waverly Hall and the boys was the only good thing their father ever did.
---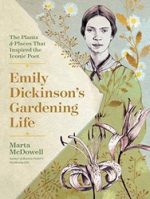 Emily Dickinson's Gardening Life
by Marta McDowell
KINDLE BARGAIN #ad
Emily Dickinson was a keen observer of the natural world, but less well known is the fact that she was also an avid gardener—sending fresh bouquets to friends, including pressed flowers in her letters, and studying botany at Amherst Academy and Mount Holyoke. At her family home, she tended both a small glass conservatory and a flower garden.
In Emily Dickinson's Gardening Life, award-winning author Marta McDowell explores Dickinson's deep passion for plants and how it inspired and informed her writing. Tracing a year in the garden, the book reveals details few know about Dickinson and adds to our collective understanding of who she was as a person.
---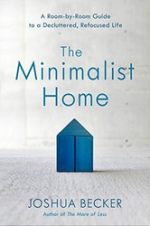 The Minimalist Home
by Joshua Becker
KINDLE BARGAIN #ad
KINDLE NOOK AUDIBLE KOBO APPLE
One of today's most influential minimalist advocates takes us on a decluttering tour of our own houses and apartments, showing us how to decide what to get rid of and what to keep. He both offers practical guidelines for simplifying our lifestyle at home and addresses underlying issues that contribute to over-accumulation in the first place. The purpose is not just to create a more inviting living space. It's also to turn our life's HQ—our home—into a launching pad for a more fulfilling and productive life in the world.