Sunday's Christian eBooks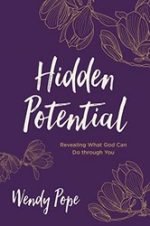 Hidden Potential
by Wendy Pope
LIMITED TIME FREE #ad
KINDLE NOOK AUDIBLE KOBO APPLE
Fears. Faults. Failures. Frailties. Every woman at some point wonders, Do I have to get past all my weaknesses before God can use me?
Wendy Pope is happy to tell readers: No! You don't have to overcome, correct, rise above, or get strong before you are qualified to be part of God's plan. He can use you right now. You are a worthwhile possibility.
In Hidden Potential, readers see that they can be: faithful, even in fear; included in God's plans, even in weaknesses; worth something, even in failure; valuable, even in pain
---
Soulmates Marked by Love
by Ellen Knightley
KINDLE BARGAIN #ad
Lindsey Smith has always hidden a part of herself, a birthmark on her cheek that she has had since birth. When her parents find a man who doesn't seem to mind the birthmark and wants to marry her, Lindsey thinks it might be her only chance at love. However, the more she gets to know Ben Blackwell, the less she wants to marry him. Therefore, in an attempt to avoid a life of misery, she decides to flee west in search of a better life.
Will she finally find what her heart craves?
When the mysterious Lindsey shows up along with his friend's mail-order bride, he intends to keep his distance in order to protect his wounded heart…
---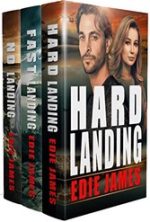 Hope Landing Romantic Suspense Books 1-3
by Edie James
KINDLE BARGAIN #ad
Danger. Family. Faith. Meet the SEALs of Hope Landing. Born to protect. Destined for love. Dive into this Amazon Best Selling series now!
Welcome to Hope Landing, where the former SEALs of Knight Tactical Protection battle danger and tests of faith on the road to lasting love. A series of clean, inspirational action adventure romances, each guaranteed to lift your heart.
Hard Landing: Two wary souls get a second chance at love… If a killer doesn't find them first.
Fast Landing: Old secrets, and a killer willing to do anything to keep them buried.
No Landing: She's loved him forever, but will a determined killer destroy their chances for a happy ending?
---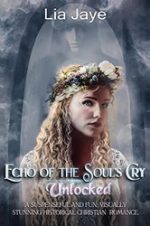 Echo of the Soul's Cry Unlocked
by Lia Jaye
KINDLE BARGAIN #ad
A Tender-hearted Story of Transformation Through Love. This series will bring you to tears, make you laugh out loud and leave you wanting more!
*An Amazon Number 1 Best Seller!*
When a wealthy family had all but given up hope after suffering a great tragedy, an unlikely young woman filled with wisdom beyond her years enters their lives. Despite the many rumors about the mansion's handsome owner being unruly and his son's possible battle with mental illness, Rachel desperately needs the employment to save her mother…
In return for her determination to face her fears and share the gospel with love, God might have more in store for her than she ever dreamed.
Check out:
(Slivers of Light Unlocked)
---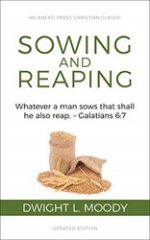 Sowing and Reaping
by Dwight Lyman Moody
LIMITED TIME FREE #ad
KINDLE NOOK AUDIBLE KOBO APPLE
Do not deceive yourselves; God is not mocked: for whatever a man sows that shall he also reap. For he that sows to his flesh shall of the flesh reap corruption, but he that sows in the Spirit shall of the Spirit reap eternal life. (Galatians 6:7-8)
We can't get away from the principle of reaping what we sow. If we sow good seed, we anticipate a great harvest. But if we sow weeds, we'll harvest no more than we sowed. The same is true spiritually and practically. If we want a reward in heaven, we must live for Christ. On the other hand, if we lie, cheat, swear, steal, get drunk, use drugs, or otherwise fulfill the lusts of the flesh, the reality is we'll pay the consequences both now and in eternity. No matter how much society tries to convince us otherwise, this law has proven to be true without fail.
---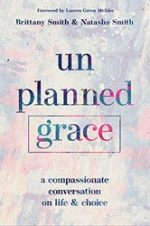 Unplanned Grace
by Brittany Smith, Natasha Smith
KINDLE BARGAIN #ad
KINDLE NOOK AUDIBLE KOBO APPLE
When a women receives an unexpected positive pregnancy test, abortion often seems like the best or only option for a fulfilling future. Unplanned Grace beautifully challenges that myth, equipping readers to support abortion-vulnerable women with love that values life in every way.
Writing not just from a "pro-birth" perspective but from a "pro-abundant life" prospective, Unplanned Grace is an ideal resource for churches and individuals who want to make a difference in the pro-life movement.
---
The Element of Love
by Mary Connealy
KINDLE BARGAIN #ad
KINDLE NOOK AUDIBLE KOBO APPLE
She mixed danger, desperation, and deception together. Love was not the expected outcome.
With their sharp engineering minds, Laura Stiles and her two sisters have been able to deal with their mother's unfortunate choice in husband until they discovered his plans to marry each of them off to his lecherous friends. Now they must run away–far and fast–to find better matches to legally claim their portion of their father's lumber dynasty and seize control from their stepfather.
During their escape, Laura befriends a mission group heading to serve the poor in California. She quickly volunteers herself and her sisters to join their efforts…
---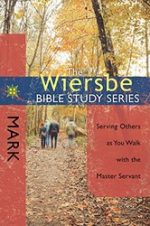 The Wiersbe Bible Study Series: Mark
by Warren W. Wiersbe
KINDLE BARGAIN #ad
The Gospel of Mark offers a unique look at the life of Christ and documents the ministry and miracles of Jesus that firmly established Him as God's Son. 
This insightful study takes an in-depth look at Christ's character and His remarkable messages, while exploring a savior whose life was marked by serving others. The Wiersbe Bible Studies Series explores timeless wisdom found in God's word. Based on Dr. Warren W. Wiersbe's popular "BE" series, each study provides topical, relevant insights from selected books of the Bible.
---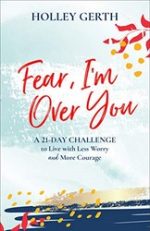 Fear, I'm Over You
by Holley Gerth
KINDLE BARGAIN #ad
Fear tries to keep you up at night, shouts when you pursue something new, whispers as you see the latest headlines. It stalks you at the doctor's office, stares you down in important meetings, or messes with your most significant relationships. It challenges your faith and throws punches at your prayers.  Fear is a bully. But it doesn't have to be the boss of you.
Want to overcome the fears in your life? In this empowering book, bestselling author, life coach, and counselor Holley Gerth shares twenty-one spiritual truths backed by psychological insights that will help you find the courage and confidence to face each day with faith instead of fear–starting right now.