Tuesday's Christian eBooks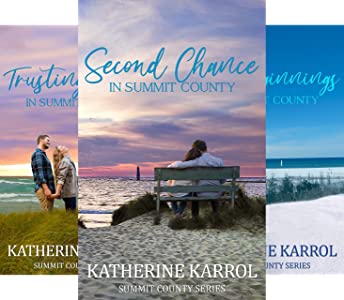 Summit County Series
by Katherine Karrol
KINDLE BARGAIN #ad
Check out: Summit County Series
First Book is LIMITED TIME FREE
Welcome to Summit County, where the northern Michigan scenery is beautiful, everyone knows everyone else, and God is a very busy matchmaker. Follow along as the residents and visitors of these cozy small towns find love, redemption, and new chances at happiness.
If you like stories about love, faith, and friendship, you'll love the Summit County Series!
Second Chance in Summit County – Book 1; Trusting Again in Summit County – Book 2; New Beginnings in Summit County – Book 3; Taking Risk in Summit County – Book 4; Repairing Hearts in Summit County – Book 5; Returning Home in Summit County – Book 6; Love Remembered in Summit County – Book 7; Surprise Love in Summit County – Book 8; Playing Married in Summit County – Book 9
---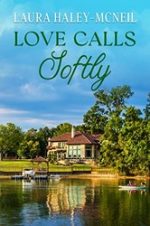 Love Calls Softly
by Laura Haley-McNeil
LIMITED TIME FREE #ad
The corporate axe hurt her and those she loves. His secrets lead to sleepless nights. Will the truth make them enemies or lead them to forgiveness and a chance to love?
When Tessa Carlisle loses her job, she jumps at the chance to spend the summer at her friend's beach house. Her plan is simple – she'll work at the local bakeshop until she's ready to rejoin the corporate world.
Dillon Lowe is on the fast track at his company until the board makes a decision that makes him reevaluate his life goals. What better place to make that decision than the family beach house no one uses anymore…
Check out:
(Beaumont Brides Series)
---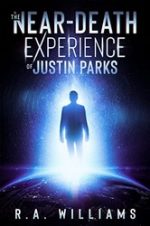 The Near-Death Experience of Justin Parks
by R.A. Williams
LIMITED TIME FREE #ad
2022 Readers' Favorite silver medal winner for best religious themed fiction. This novel, written from a Christian worldview, was inspired by Imagine Heaven, The New York Times Best Seller, by Pastor John Burke.
Every year, thousands of people cheat death and come back to life. Many people have near-death experiences that offer a glimpse of Heaven. But none of these can compare to the remarkable near-death experience of Justin Parks.
The past three years haven't been easy for Justin, causing him to lose faith in a loving, personal God. His fiancée gets killed by a drunk driver a week before their wedding. A year later, after enrolling in the police academy in a misguided effort to avenge his fiancée's death, he mistakes a Black church pastor for an armed robber, shoots him in the chest, and nearly kills him. In the following months, he struggles with the backlash from the public outrage caused by negative media attention. And just when his life has seemingly returned to normal, a blow to the head sends him to a watery death, only for him to be revived by paramedics a few minutes later…
---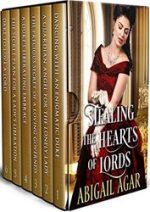 Stealing the Hearts of Lords Collection
by Abigail Agar
KINDLE BARGAIN #ad
6 of my best-selling Regency romance stories! Delightful romances full of emotion, drama, action, plot twists, and of course, love!
Dancing with an Enigmatic Duke
A Guardian Angel for the Lonely Lady
The Precious Secret of a Loving Governess
A Duke's Liberating Embrace
The Secret Plan for a Lady's Liberation
Dare to Love a Lord
"This is a very entertaining group of stories. I have read them before as they came out and enjoyed each and everyone. All the books have a cast of great characters some you will have a love/hate relationship with other you will just adore. The books are well written with awesome twists." by Amazon Customer
---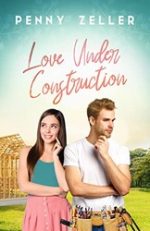 Love Under Construction
by Penny Zeller
KINDLE BARGAIN #ad
She builds websites. He builds houses. Together, can they build a family for two orphans?
Irelynn agreed two years ago to help raise her best friend's twins should anything happen. When she is called upon to fulfill that agreement, there is only one problem – Irelynn must share the responsibility with the arrogant but handsome Quinton Gregory.
Quinton takes the role of raising his niece and nephew with all seriousness. He will do anything for the twins, even if it means putting up with the beautiful but stubborn Irelynn Brady…
Readers of Christian contemporary romance will enjoy this faith-based tale with heartwarming and memorable characters.
---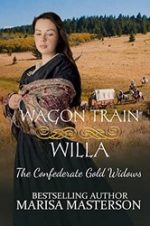 Wagon Train Willa
by Marisa Masterson
KINDLE BARGAIN #ad
Brand New Release from Marisa Masterson
"I'm only the nanny!" Willa Winston shouted the words to the wind. No one heard her. After all, the wagon train was behind her where she should be. It was where she would be if the little devils hadn't disappeared in this direction. Tall prairie grass tugged at her skirt. The only good thing about it was the trail going through the overlong stuff. She easily followed the rascals.
Willa was only the nanny. How did she end up on the Oregon Trail with her young charges?
Cade Chester enjoys his life as a scout for a wagon train. Little does he suspect that any woman could change his desire for adventure. Willa Winston is more than merely a woman needing help. She is the one person he cannot let walk out of his life.
When Willa is forced to pick a husband on the trail, she asks Cade to marry her. Only, she wants to be able to walk away at the end of the journey. That is, until danger comes after her.
Check out:
(Mail-Order Marietta)
---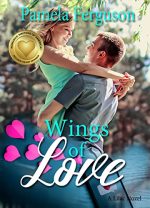 Wings of Love
by Pamela Ferguson
KINDLE BARGAIN #ad
Take a trip to Lilac in this heartwarming small town romance novel.
What was Lilac's mayor thinking, inviting Reo and Jack to volunteer together? There's no way Reo will work with the arrogant former athlete who made her life miserable. And Jack wants nothing to do with the gorgeous goody-two-shoes who destroyed his college football scholarship chances.
When Reo and Jack discover they're the only two people in Lilac with the angel app on their phones, they agree to do one more good deed. Can they pretend to get along for the good of the town and find a way back into each other's hearts?
Check out:
(True Hearts)
---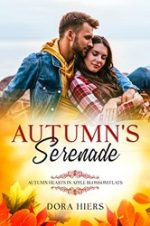 Autumn's Serenade
by Dora Hiers
KINDLE BARGAIN #ad
Brand New Release from Dora Hiers
Will autumn's serenade and his niece's unexpected arrival usher in a season of peace or craziness?
Luke Erickson has no idea what to do with girls. Except Tinsley, although the handywoman isn't really girly. But his fifteen-year-old niece just showed up on his doorstep, and he couldn't possibly turn her away. Running the pub keeps him plenty busy, and the mayor just appointed Luke as hospitality chair for the town's first Autumn Festival, so his plate is overflowing. Surely his best friend Tinsley will take pity on him and help a guy out, right? Otherwise, his life just took a turn toward crazy.
What's Luke thinking? The man doesn't have a clue about girls, so how does he expect to raise his niece? He can't even see that Tinsley's a woman underneath her work overalls…
Check out:
(Autumn Hearts in Apple Blossom Flats)
---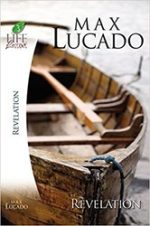 Revelation
by Max Lucado
PAPERBACK #ad
AVAILABLE on PAPERBACK ONLY on SALE for $1.49.
Revised and updated, the Lucado Life Lessons series continues to be one of the best-selling study guide series on the market today. For small group to individual use, intriguing questions and new material take the participant deeper into God's Word.
"We are using this as a small group study. The group is loving the life lessons and I love that we are able to apply the lessons to our everyday lives. Great insight and wonderful discussion questions." by Amazon Customer
---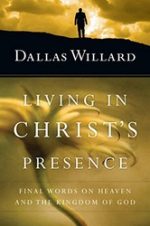 Living in Christ's Presence
by Dallas Willard
KINDLE BARGAIN #ad
KINDLE NOOK AUDIBLE KOBO APPLE
In these pages Dallas Willard explores what it means to live well now in light of God's kingdom. He reflects on the power of the Trinity in our lives, the meaning of knowledge, the importance of spiritual disciplines and much more. Dallas Willard offers poignant thoughts about what it will be like to transition into the very presence of Christ in heaven.
This book is adapted from the talks given at the February 2013 Dallas Willard Center "Knowing Christ Today" conference in Santa Barbara, California. Each chapter is followed with an illuminating dialogue between Dallas Willard and John Ortberg.
---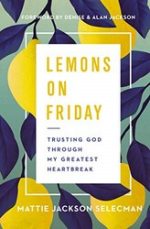 Lemons on Friday
by Mattie Jackson Selecman
KINDLE BARGAIN #ad
KINDLE NOOK AUDIBLE KOBO APPLE
When your life is suddenly full of questions, how do you move forward in faith?
After being married for less than a year, country music legend Alan Jackson's daughter Mattie was faced with navigating a future that didn't include her young husband and the life they dreamed of together.
Ben Selecman passed away twelve days after suffering a traumatic brain injury–and three weeks before celebrating his first anniversary with his wife. Suddenly, twenty-eight-year-old Mattie had to find a way to reconcile herself with a good God, even when He did not give her the healing miracle she prayed for.
---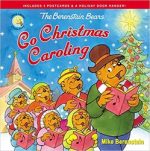 The Berenstain Bears Go Christmas Caroling
by Mike Berenstain
PAPERBACK #ad
AVAILABLE on PAPERBACK ONLY on SALE for $0.59.
Young readers will enjoy reading about the Bear family going Christmas caroling on Christmas Eve in Bear Country with their friends in this addition to the Living Lights™ series of Berenstain Bears books. Children will learn about Christmas traditions and the lyrics to special Christmas carols such as "Good King Wenceslas" and "Jingle Bells." This holiday book also includes four holiday postcards and a holiday door hanger!